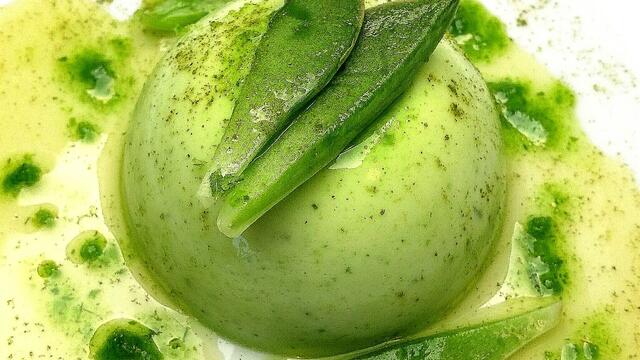 Coconut and Cardamom Leaves panna cotta, Majii Leaves in Cardamom syrup
Ingredients
8 Cardamom Leaves
8 Majii Leaves
150g caster sugar
1 tin coconut milk
100ml milk 
100ml double cream
6 gelatin leaves
5g cardamom powder
Method
Blitz together the Cardamom Leaves and sugar into a wet, fine paste.
Use one tablespoon of this mix to make the cardamom syrup. Just cover with water and bring to the boil, reduce and pass through a fine sieve or a coffee filter.
Mix the rest of the sugar with ¾ of the coconut milk and the double cream.
Soak the gelatin leaves in cold water, press the excess of water out of them, and keep aside until needed.
Using a small pan, pour the remaining quarter of coconut milk with the milk, bring to boil and whisk in the gelatin leaves. Remove from the heat and add the rest of the sugar and coconut milk mix.
Pour this mix into silicon mold and let set for a few hours.
Slice the Majii Leaves into two and soak them into the cardamom syrup.
Serve the dish with cardamom powder, Majii Leaves and cardamom syrup.
Recipe: Franck Pontais
Related recipes
Gastronomical masterpieces
Related products
Say yes to the cress