Ingredients
(For 3 tacos)
1 punnet BroccoCress
3 (12 to 15cm) tortilla bread
90gr cooked red kidney beans
40gr pomegranate seeds
200gr ground minced beef
100ml passata tomato
10gr diced red chilli
100ml beef stock
40gr diced white onions
1 tbsp vegetable oil
1 pinch sea salt
¼ of a tsp smoked paprika
Method
Burn the tortilla bread slightly in a hot grill pan to add a smoky flavour to it. 
For the chilli con carne, pour the oil in a saucepan and add the diced white onions, the minced beef, paprika and salt. 
Let cook for a couple of minutes and add the tomato passata, diced red chilli and beef stock. 
Continue cooking for another 15 minutes or until the liquid has almost all evaporated. 
Build the tacos with the chilli con carne, the red kidney beans, and the pomegranate. 
Serve with the freshly cut BroccoCress. 
Recipe: Franck Pontais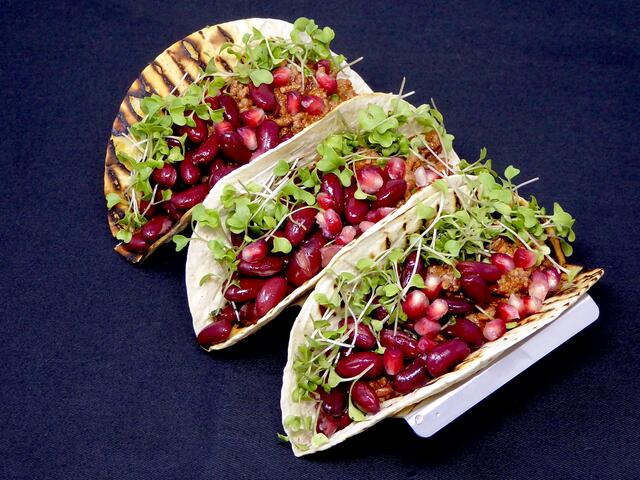 Related recipes
Gastronomical masterpieces
Related products
Say yes to the cress