Ingredients
(For 4 portions)
½ punnet Shiso Purple
14 Shiso Green Leaves 
2 punnets Daikon Cress 
400gr peeled candied beetroot 
500ml pickling liquor 
20gr fresh ginger 
4 tbsp sesame oil 
1 pinch fine sea salt 
1 pinch white ground pepper 
Method
Using a mandolin, slice the beetroot into 1mm thick slices. keep the end pieces and dice them.
Keep a few slices to fry and dip the rest into the cold pickle brine with the diced pieces. Boil the brine. Turn off the when it boils and leave the brine covered for 15 minutes.
Prepare the ginger vinaigrette using a high-speed blender, mix the ginger, sesame oil and seasoning.
Arrange 12 Shiso Green Leaves on cling film and place a round slice of pickled beetroot on every one.
Brush the Shiso Green Leaves generously with the ginger vinaigrette, add the freshly cut Daikon Cress and roll them into rolls.
Fry the remaining 2 Shiso Green Leaves and the remaining beetroot slices on a medium high fire.
Arrange the beetroot on plates and serve with the rolls, some fried beetroot, the candied cubes, the fried Shiso Green Leaves and the Shiso Purple.
Recipe: Franck Pontais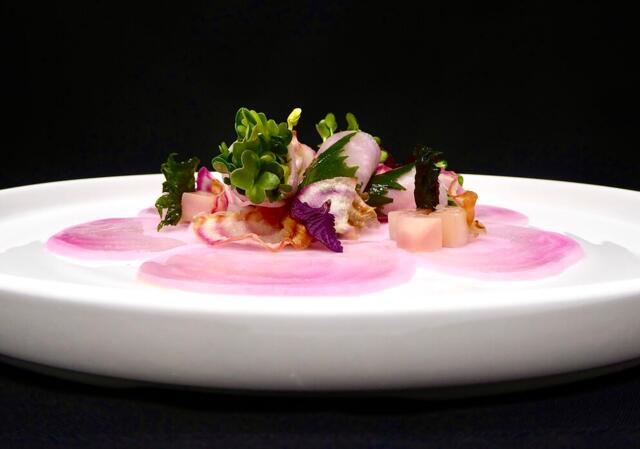 Related recipes
Gastronomical masterpieces
Related products
Say yes to the cress