Ingredients
(for 4 portions)
½ punnet Persinette Cress
½ punnet Adji Cress 
4 butternut squash (small)
180g Gorgonzola cheese 
2 tbsp water  
1 tbsp olive oil  
2 pinches salt 
Method
Peel and cut the butternut squash into two, the first half would be the round base for roasting and the other half to make the tagliatelle.
Deseed the round base, sear them face down in a hot non-stick frying pan with the olive oil.
Once all nice and seared, finish the cooking process in an oven at 180℃ for 15 to 20 minutes.
Cut the other halves of the sweet potatoes into thick slices of 1cm.
Using a basic potato peeler, peel the sides of each piece to make the tagliatelle.
Bring a pan of water with the pinch of salt to boil and blanch the tagliatelle for 30 seconds.
Dice 90g of the Gorgonzola cheese and fold into the tagliatelle once cooked and drained.
Serve them in the cavity of the other half roasted sweet potato and finish with the Persinette Cress and Adji Cress.
To make the dressing simply melt gently together with the other 90g of gorgonzola with the two tablespoons of water.
Pour the sauce at the bottom of each plate and add the roasted and filled squash on top.
We haven't used any pepper in this recipe, Adji cress does have a peppery taste and work very well for this dish. Persinette Cress brings this delicate flavour of parsley and with its natural tenderness, it does really pair well.
Recipe: Franck Pontais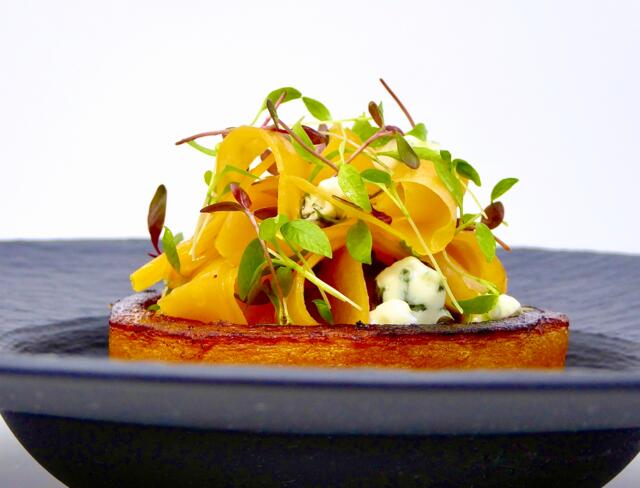 Related recipes
Gastronomical masterpieces
Related products
Say yes to the cress