Ingredients
Pasta:
200g/7oz plain flour or Italian '00' flour 
2 medium free-range eggs 
12g squid ink  
Black Cod Filling:
3 stick lemon grass  
40g ginger  
10g sea salt  
12g black pepper corns  
4 bay leaves  
500g black cod  
100ml brown fish stock  
20ml fish sauce  
200ml water  
lemon juice and zest to taste  
Split fish stock and verbena emulsion:
200ml strained cooking liquid  
20ml verbena herb oil  
50g of Sea Samphire
20g salted butter  
Method
Pasta:
Place the flour in a food processor. Add the eggs and keep pulse until the mixture resembles fine breadcrumbs (it shouldn't be dusty, nor should it be a big, gooey ball). This only takes a minute.
Tip out the dough and knead to form into a ball shape. Knead it for 1 minute, it should be quite stiff and hard to knead. Wrap in cling film and leave to rest in the refrigerator for 30 minutes before using.  
Now cut the dough into 2 pieces. For each piece, flatten with a rolling pin to about 5mm/¼ in) thickness. Dust the pasta with flour and pass it through the pasta machine at its widest setting, folding and rolling 7 times (not changing the setting) until you have a rectangular shape. It is important to work the dough until it is nice and shiny, as this gives it the bouncy texture. Repeat with the second piece of dough. 
Start with the pasta machine at its widest setting, pass the dough through the rollers. Do not fold but repeat this process, decreasing the roller setting down grade by grade with each pass. For most uses, take the pasta down to the penultimate setting - especially for ravioli, as you are sandwiching two layers together when it is folded.  
Black Cod Filling:
In a heavy base pan add the stock and water and aromats.  
Remove the skin and sinue from the cod and dice into 2cm chunks. 
Poach for 6 minutes in the boil stock.  
Remove from the stock and cool over ice.  
Adding a little of the cooking liquid to the cooling bowl.  
Add to a food processor and blend with a little strained stock as required. 
Place into a piping back ready to fill the paste.
Recipe: Thomas Leatherbarrow  
​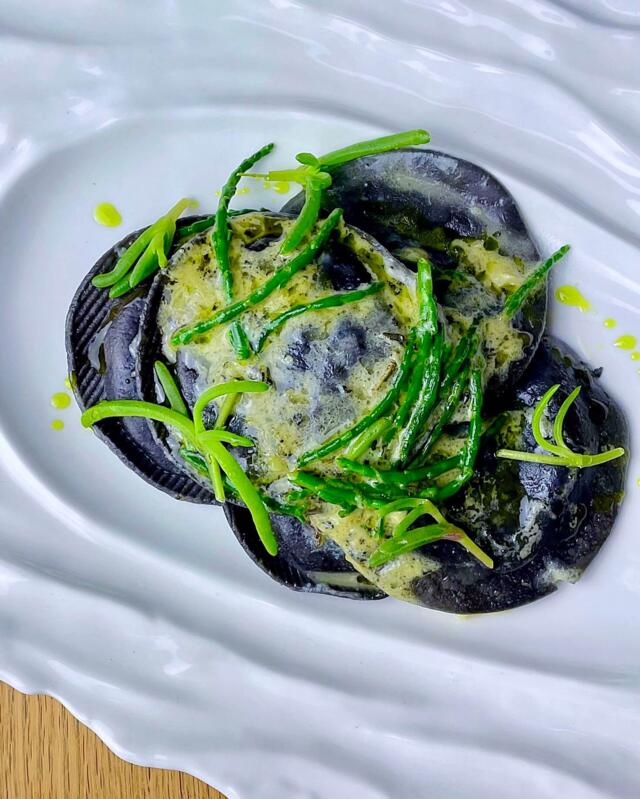 Related recipes
Gastronomical masterpieces
Related products
Say yes to the cress