Ingredients
(For 4 portions)
Asparagus:
1 punnet BroccoCress
1 medium leek
4 spring onions
28 green asparagus
750ml vegetable stock
200ml Mornay sauce
Mornay sauce: 
1 punnet BroccoCress
25gr butter
15gr flour
180ml milk
dices of ¼ of an onion
1 bay leaf
40gr grated Gruyère cheese 
Method
Asparagus:
Cut the leek through the middle and peel of the leaves.
Bring to boil the vegetable stock.
Blanch the asparagus, spring onions and leaves of leek.
Lay the leaves of leeks flat, making 4 square shapes of approximately 7 cm.
Divide the asparagus into four piles and lay them on top of the leeks with one spring onion in each portion.
Roll the asparagus into the leek and trim the ends of each roll, keep the trimmings for the plating.
Serve with Mornay sauce and one punnet of freshly cut BroccoCress.
Mornay sauce:
Melt the butter in a heavy bottom saucepan.
Stir in the flour to form a roux and cook for 2 minutes.
Add the warm milk slowly while whisking or stirring constantly.
Add the diced onions and the bay leaf and simmer for about 6 to 7 minutes.
Pass the sauce through a fine mesh strainer and return the sauce to the pan.
Add the Gruyère cheese and stir until the cheese is melted.
Add the freshly cut punnet of BroccoCress at the last minute.
Pour the sauce on top of parcels of asparagus and place the dish under the grill for a minute (or use a blow torch).
Recipe: Franck Pontais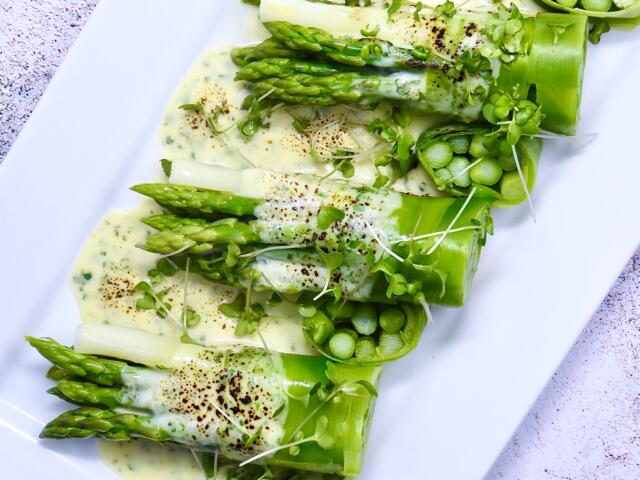 Related recipes
Gastronomical masterpieces
Related products
Say yes to the cress