Ingredients
(To Make 10 sushi)
10gr Algae Powder Gold         
1 fine long strip nori sheets            
80gr skinless salmon fillet        
¼ cucumber, deseeded, thinly sliced, lengthways             
¼ avocado, cut into fine wedges or strips             
1 piece Spring onions, cut into fine juliennes  
wasabi - enough to spread a little                 
10gr pickled sushi ginger, to cut into strips or leave whole depending on sizes. 
Gangnam Tops to serve with the sushi 
dark soy sauce to serve with the sushi 
For the rice 
90gr sushi rice             
2 tsp Mirin                
25ml rice vinegar             
200ml water
Method
Rinse the rice under clear water and leave to drain in a colander. 
Put the rice in a saucepan and add the water and mirin on top, cook cover on medium heat for 20 minutes and set aside for 15 minutes. 
When ready to use , transfer in a bowl and mix in the rice vinegar. 
Lay a piece of cling film on top of the sushi mat and lay the rice evenly on top. 
Run a pea sized blob of wasabi across the rice and build with the rest of the pre cut and ready to use ingredients. 
Roll up tightly and squeeze to seal when you reach the end, leave aside for a couple of minutes. 
Lay another piece of cling film on the sushi mat and dust the surface with the Algae powder gold. 
Remove the cling film from the sushi roll and roll it again on the sushi mat, making sure that the algae powder covers the whole roll. 
Roll up tightly once again, cut to size, remove the cling film and serve with the Gangnam tops and soya sauce.. 
Recipe: Franck Pontais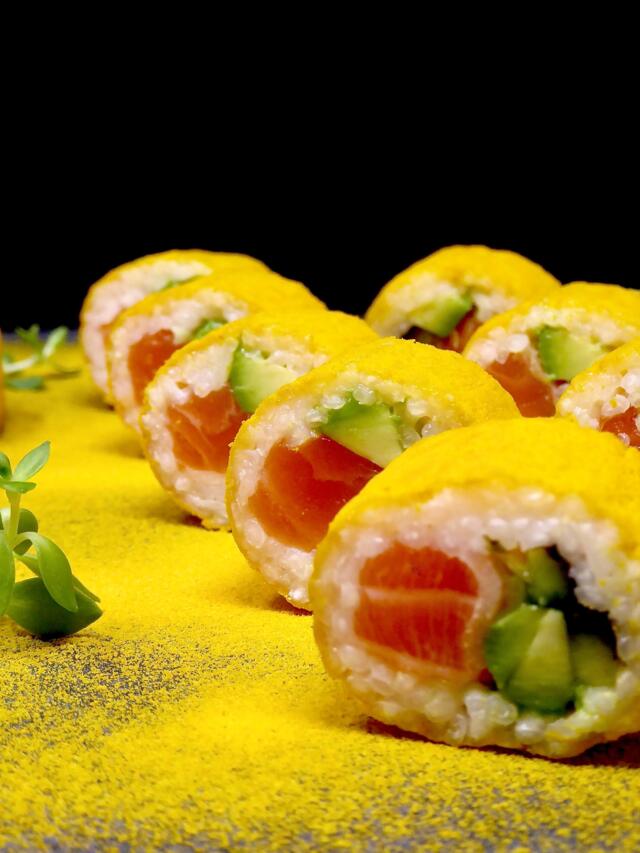 Related recipes
Gastronomical masterpieces
Related products
Say yes to the cress