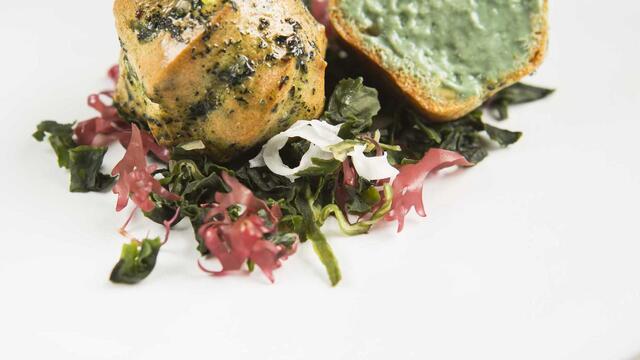 Profiterole, algae
Anton Schmaus aims for a kitchen that respects the hinterland and produces simple yet perfectly prepared dishes.
Ingredients
For the choux pastry:
60 g of milk
60 g of water
3 g of salt
5 g of sugar
60 g of butter
67 g flour
120 g eggs
For the algae cream:
270 g noilly prat
135 g egg yolk
60 g of sugar
2 g of agar
185 g of butter
40 g 100% Algae (Algae Powder)
150 g of cottage cheese
4 cups of Borage Cress
Method
For the choux pastry, bring the milk, water, butter and salt to a boil, stir in the flour and continue to stir on the fire until the mass comes off the bottom.
Remove the pan from the heat, stir in the eggs one by one and put the mass in a piping bag. Pipe small puffs on baking paper and bake in the oven at 200°C until golden brown.
For the crème de noilly prat reduce to half, mix with the sugar, egg yolks and agar and bring to a boil. Reserve cool.
Blend the cold mass with the algae powder, the crème fraîche and the Borage Cress to a smooth mass, fill in a siphon with 2 cartridges.
Fill the profiteroles with the light cream and serve as an appetizer on the algae salad.
***
Storstad
Watmarkt 5, Regensburg
Tel. 0049 9415 999 30 00
www.storstad.de
Recipe: Anton Schmaus
Source: Culinaire Saisonnier 81 - Summer 2016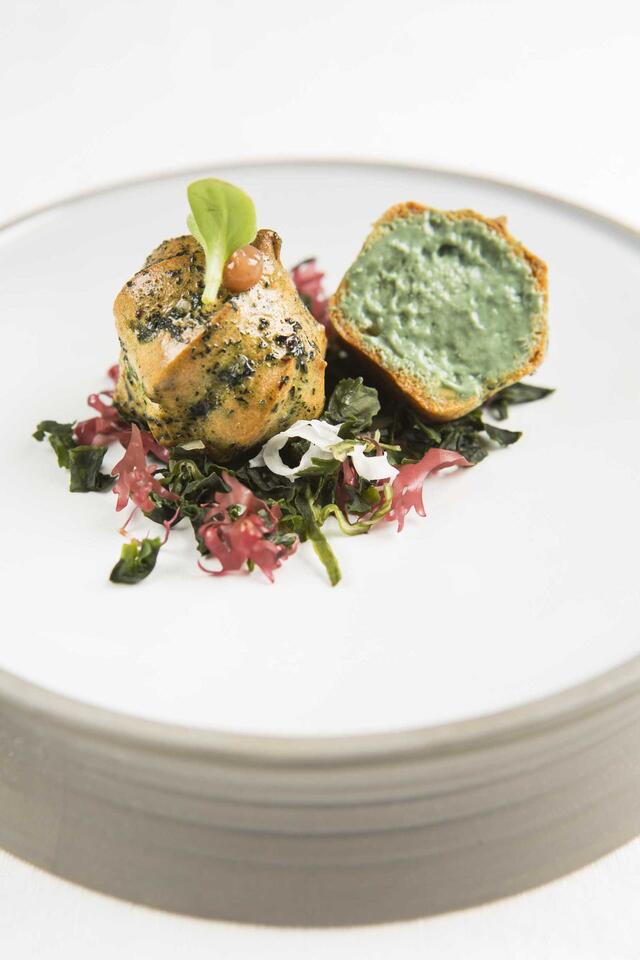 Related recipes
Gastronomical masterpieces
Related products
Say yes to the cress