Ingredients
(For 2 portions)
¼ of a punnet Vene Cress
¼ of a punnet Melissa Cress
2 stems Zallotti Blossom
1 small pomegranate
2 mediums gelatine leaves
150ml water
80gr digestive biscuit
25gr melted butter
200gr soft cream cheese
100gr double cream
1 tsp icing sugar
juice of ½ lemon
Method
For the cheesecake:
Crumble the digestive biscuit and mix it with the melted butter. 
Press firmly into the base of the two-heart shape cutter (template/mould) to create an even layer and let set in a cool place for 30 minutes. 
Meanwhile...
Peel and deseeds the pomegranate, keep half of the seeds for the little jelly heart on the side and blitz the rest with 150ml of water. Pass and reserve the pomegranate juice. 
Whip the double cream until firm. 
Using a mixing bowl, whisk together the icing sugar with the cream cheese and the lemon juice and fold in the whipped double cream. 
Using a pipping bag, fill up the heart shapes on top of the biscuit base, to 2 to 3 mm below the top. Let set in a cool place for 30 minutes. 
Soak the gelatine leave in cold water, bring the pomegranate juice to boil and whisk in the gelatine leaves. Leave to cool down. 
Once warm to almost cold, pour the pomegranate jelly on top of the cheesecake, to the level of the heart shape ring. Let set and remove from the ring. 
For the small jelly heart:
Fill up two smaller moulds with the other half of the pomegranate seeds and pour the rest of the jelly on top. Let set and remove from the mould. 
Serve with the Vene Cress, Melissa Cress and Zallotti Blossom. 
Recipe: Franck Pontais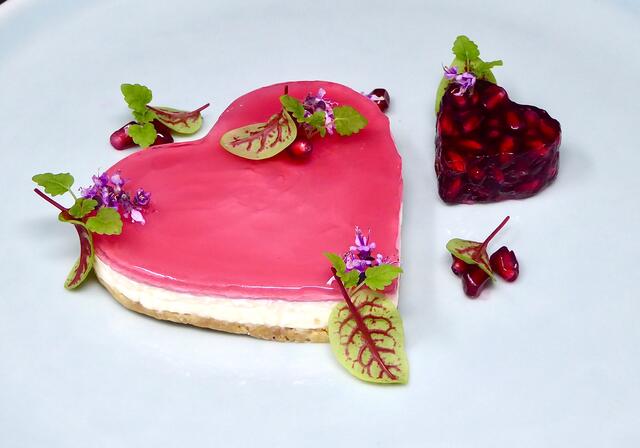 Related recipes
Gastronomical masterpieces
Related products
Say yes to the cress