Ingredients
6 nos quail eggs (soft boiled) 
3 tbsp coconut oil  
1 tsp mustard seeds  
2 tsp chopped ginger  
1 tsp chopped garlic  
3 nos onion (finely chopped) 
1 nos tomato (finely chopped) 
1 nos potato 1/2" thick slice 
1 spring curry leaves  
¼ tsp turmeric powder  
1 ½ tbsp kashmiri chilli powder   
1tbsp coriander powder  
½ tsp crushed black pepper  
½ lit boiled water 
Jasmine Blossom 
Anise Blossom 
Zallotti Blossom 
Paztizz Tops 
Method
Boil water in a pan with salt. Carefully place the eggs in to water after boiling and take them out after 2 minutes.
Start your timer! Let the eggs boil for:
2 minutes: soft-boiled 
3 minutes: medium-boiled  
3.5 minutes: hard-boiled. 
Once the eggs boiled, par boil the sliced potatoes.
In a pan add 1 tbsp of coconut oil and sear the par boiled potatoes with curry leaves until it's got golden colour as well as cooked perfectly. I'm using sliced potatoes for presentation, If you want to mix the potatoes in curry add it to the masala, it will be after the 8th step in the method.
After searing the potatoes, in the same pan add mustard seeds and wait until its cracks. 
Add chopped ginger and garlic sauté until golden brown.
Once ginger and garlic sautéed nicely, add chopped onion and salt sauté until brown.
Reduce the flame and add turmeric powder, chilli powder, coriander powder, and crushed pepper.
Sauté until the raw flavour is off from the spices and add chopped tomatoes. 
At this point you can add potatoes to the mixture and cook nicely. 
Once the masala and potatoes are cooked add boiled eggs to the mixture and mix well. Pour a spoon full of coconut oil on top of the curry. Cover and keep it closed until served. 
Recipe: Jomon Kuriakose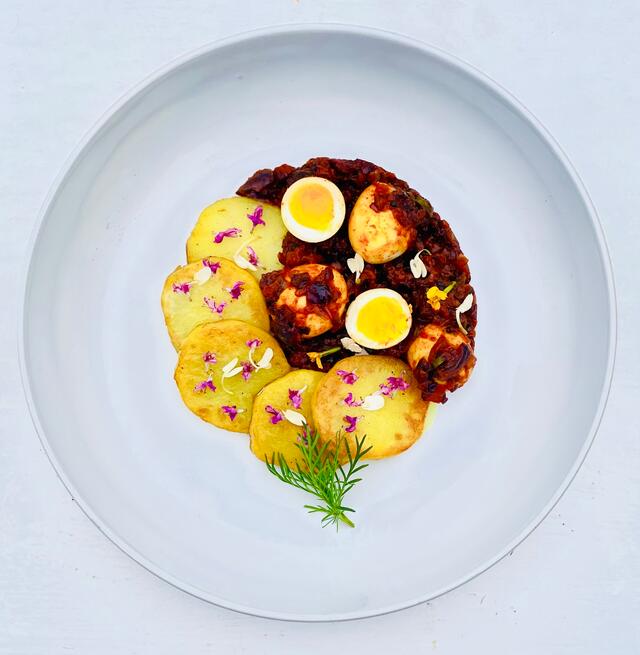 Related recipes
Gastronomical masterpieces
Related products
Say yes to the cress