Składniki
To make a 4 to 6 portions
1 punnet Yka Leaves                            
1 stem Zallotti Blossom       
400gr sweet pastry               
350gr fresh cut rhubarb      
150gr caster sugar                 
150gr custard                                          
10gr vegetarian gelatin        
100ml Yka Leaves syrup      
Method
The rhubarb compote:
Wash and cut the rhubarb in chunk and cook cover on a medium heat with 80gr of sugar and one table spoon of water for 15 minutes. Take the lid off and cook for another 10 minutes.
Let cool in the pan and reserve until use.
The custard:
Dilute 5g of gelatine in a table spoon of boiling water and add the the simmering custard.
Reserve aside until use.
The Yka Leaves syrup:
Bring 120ml of water with the 70gr of the sugar leftover to a boiling point and add ½ punnets of yka Leaves all in once. Keep whisking , the syrup will turn bleu , then it will become pink just afterwards.
Once pink, pass the syrup straight away into a fine sieve, return to the pan and mix in the other 5gr of gelatin , it will be just enough to set.
The tart:
Once the pastry is cooked, spread evenly the rhubarb compote to make the first layer on the bottom of the tart.
Add the layer of warm custard and let set in a cool place.
Arrange the rest of the Yka Leaves on top of the set custard in a way to make a nice pattern.
Pour gently the warm syrup on top of the leaves and let set.
Once all set , sprinkle some Zallotti Blossoms flowers on top of the tart, it's now ready to cut and serve.
Recipe: Franck Pontais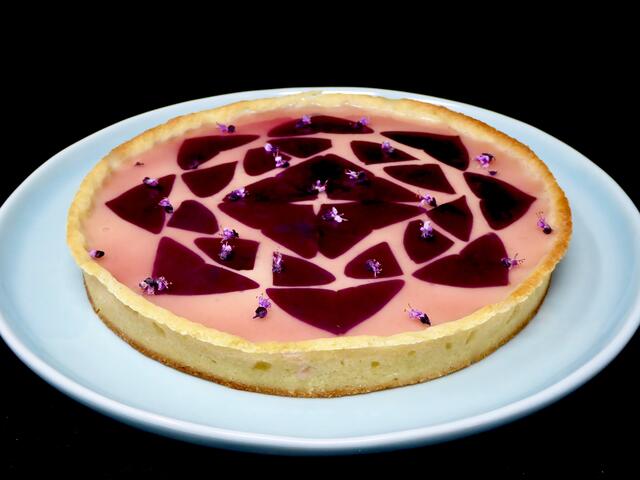 Related recipes
Gastronomical masterpieces
Related products
Say yes to the cress