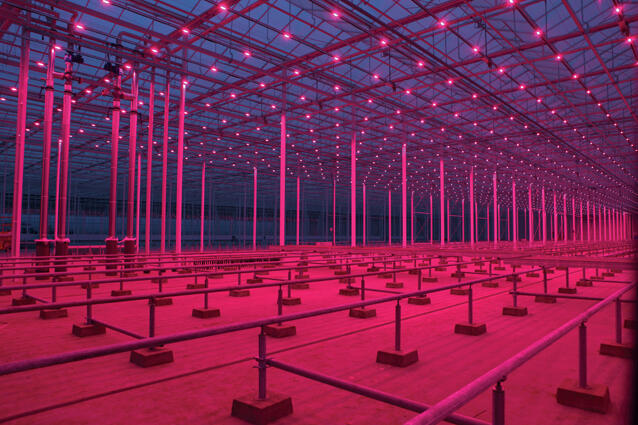 Working towards the future
Category: Sustainability
In a relatively short time, Koppert Cress has grown to become a company of considerable size.
In a relatively short time, Koppert Cress has grown to become a company of considerable size. After the 2006 extension, we wrote that the company was ready for the future and that there was enough space to cope with new growth. Now the company is ready for the next step in its development. In the past months a start has been made with the construction of a new greenhouse complex met offices of 1,7 ha. In the course of 2011, all activities will be moved from the current locating to the new premises. Cressperience, meeting centre and demonstration kitchen will get a makeover so they will meet professional standards again.

The realisation of the new building is not a moment too soon. Better than that, earlier than planned the green­houses will be used for the production of cress. Already in November the first plants will come from the state-of-the-art facilities. The market for cress has increased so much that the current production space turns out to be insufficient to meet the demand. It will be the main challenge for Koppert Cress this season, to be able to supply its customers during the busiest time of the year.

The new greenhouses will be among the technically most advanced in Europe. Everything possible has been done to be as sustainable as possible. Excess heat from lamps and sunlight will be stored underground, to be retrieved in the winter when the green house needs the heath. Special LED lamps will be fed by solar cells on the room of the office building. These lamps will be of the latest technology and are much more efficient than the current generation of assimilation lights. In addition, the adjustable light frequency will have a positive effect on the plant quality and crop time. 

One of the most significant changes will be the culture in layers, allowing for a more efficient green­house space use. All in all, will the new project realize a five-fold production capacity. 
The current facilities will not be made redundant. Cressperience is a phenomenon on its own, with on average 200 groups of visitors per year. After the move, the meeting room will get a makeover and there will be even better means to entertain visitors. The kitchen will be enlarged and audiovisual equipment installed, so that activities can also be recorded. The research trial garden will be expanded tot some sort of botanical garden, where visitors can go on their own quest for new flavour experiences. 
Related articles
Also interesting