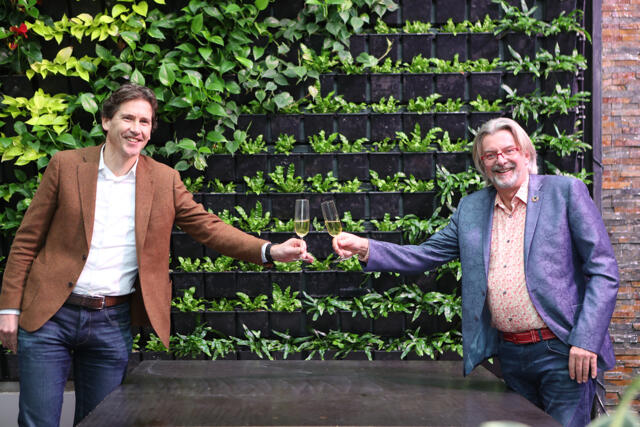 Rabo Investments participeert met minderheidsbelang in Koppert Cress Group
,
" If you want to go far, go together
Category: Sustainability
Rabobank Group will become a co-shareholder in Koppert Cress Group through its investment department Rabo Investments (RI). By taking a minority interest in Koppert Cress, a course will be set towards further joint sustainable international growth.
Koppert Cress has grown tremendously in the past 20 years and has realized a unique and valued position amongst fruit and vegetable traders, catering wholesalers, exporters, chefs and restaurateurs. The company, led by Rob Baan, is a family business that is keen on operating in the public eye. The company wants to continue its strategy in terms of marketing and sustainable innovations.
Rob Baan, DGA Koppert Cress: "Even before Covid-19, Koppert Cress was looking for a Dutch partner with an international position. It is important to maintain the mission and vision of the owners. In Rabo Investments, Koppert Cress finds a partner with a similar vision on horticulture, healthy food and sustainability. The participation of Rabo Investments guarantees continuity and growth while preserving our values and characteristic authenticity. This gives us the strength and resources to continue further growth."
Thijs Friederich, managing director of Rabo Investments: "Koppert Cress is a wonderful and resilient horticultural company. The company has held up well in the recent crisis, in which the food service market was largely closed. By being close to the chefs, Koppert Cress has built a relationship that results in flexibility, originality, with a focus on taste and surprise on the plate. We see Koppert Cress as an innovative and progressive company in horticulture, in particular in the field of marketing and sustainable technology. Sustainability and innovation is something that we as Rabo Investments like to support."
Koppert Cress is constantly looking for natural, innovative ingredients that chefs can use to intensify the taste, aroma and presentation of their dishes. Products that meet the increasingly stringent requirements of restaurants worldwide. Cresses are freshly sprouted plants of 100% natural, aromatic plants. These plants offer a freshness and intensity in taste and smell only found in young plants. The company grows about 80 products and has a whole range of surprises in the pipeline. The company has 10 hectares of modern greenhouses in the Westland, 170 employees, its own seed company Sango Seeds and works together with international license partners.
Rabo Investments is the investment department of Rabobank Group and has invested more than EUR 1.5 billion worldwide in the Food & Agri, Healthcare and Sustainability sectors. These investments have a long-term focus and range from growth capital for start-ups and scale-ups to (co-)investments in mature companies and funds.
Rabo Investments was assisted in this transaction by, among others, Clifton Finance (M&A), Eden McCallum (commercial), DeBreij (legal), JSA (tax), and EY (financial). Koppert Cress was assisted by BDO, KraGd and Scholtes Boevink & Co.
Related articles
Also interesting