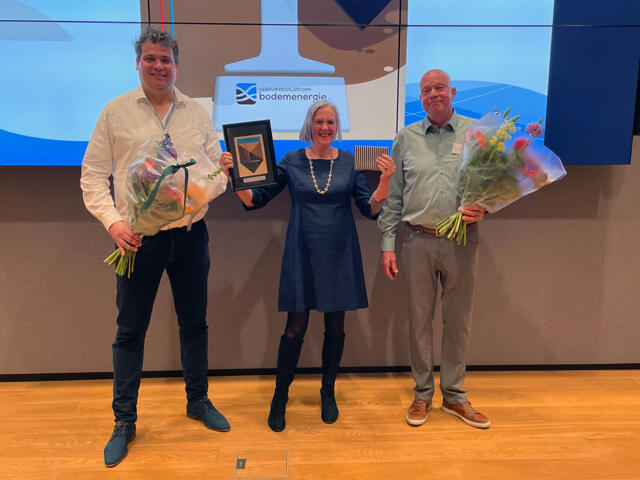 Bart van Meurs and Leen van Leeuwen winners of the 2023 WKO Sustainability Award
Category: Sustainability
Bart van Meurs and Leen van Leeuwen from Koppert Cress/Division Q are the winners of the 2023 WKO Sustainability Award
Bart van Meurs and Leen van Leeuwen from Koppert Cress / Division Q are the winners of the 2023 WKO Sustainability Award. The two men received the award for their commitment to their WKO system (Heat Cold Storage) and the promotion of geothermal energy in general. Van Meurs and Van Leeuwen received the award on Thursday, May 11th, from Professor Annelies Huygen during the National Symposium on Geothermal Energy in Utrecht.
The presentation of the WKO Sustainability Award is a regular part of the annual symposium. Nominees for this award are professionals who are dedicated to their WKO system and actively share their knowledge. In this way, they help to improve the image of heat and cold storage, and contribute to making geothermal energy an important part of the goals in the Energy Accord. This year marks the seventh time the award has been presented. Professor Annelies Huygen, professor of Energy Market Regulation at Utrecht University, presented the award at the A.S.R. headquarters in Utrecht.
Sustainability in horticulture 
Van Meurs and Van Leeuwen are product developers and managers at Division Q, the technology company of Koppert Cress. They are not new to the WKO Sustainability Award, having been nominated in 2018. The duo makes use of geothermal energy in a distinctive way, with Van Meurs particularly responsible for innovations in this field. Thanks to them, Koppert Cress plays a prominent role in the field of sustainability in horticulture. For this reason, they were nominated again this year and were awarded the prize. "Van Meurs and Van Leeuwen are major driving forces in the use of geothermal energy in horticulture," the jury said.
Emission-free cultivation
Van Meurs and Van Leeuwen are committed to achieving optimal sustainability within Koppert Cress in various ways. For example, the company uses High-Temperature Storage (HTO) and extracts heat from everything that can contribute, such as air, water, motors in the cooling cell, office, and greenhouse. Geothermal energy is also in prospect. The next step for Koppert Cress is to grow completely emission-free.
Collaboration with Division Q
In addition to helping their own company, Van Meurs and Van Leeuwen also want to help the entire sector to become more sustainable. For example, the company also collaborates with promising startups. That is why Koppert Cress even set up a separate division in 2022, Division Q, which, under the leadership of Van Meurs, focuses on technical innovations that can make the entire sector more sustainable.
Radboud UMC
The other two nominees also actively support their own WKO system and geothermal energy in general. Aat Builtjes works as a strategic energy advisor and chairman of the WKO team at the Radboud University Medical Center (UMC) in Nijmegen. Together with his colleagues, he is committed to running the hospital's campus-wide WKO installation optimally. He also likes to share the knowledge from his work. His main message? "Be brave and look beyond your own buildings and grounds."
Wageningen University & Research
The other nominee is Wim Bruins, coordinator of Measurement and Control Technology at Wageningen University & Research. One reason for his nomination is the way he always stays on top of the latest innovations and knows how to apply them in practice. He optimizes his own WKO system by intensive monitoring and adjusting based on the weather forecast. He also facilitates strategic charging and the transition to "gasless" heating.
Related articles
Also interesting