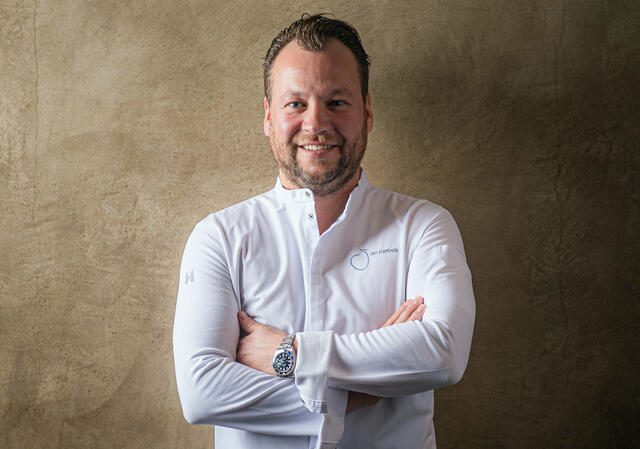 The finishing touch of my creations
Located in the beautiful, stately historic hotel Bayerische Hof dating from 1841, not far from Munich's historic old town, one can find the gastronomic gem of the city: Restaurant Atelier.
Restaurant Atelier
,
In hotel Bayerische Hof
Located in the beautiful, stately historic hotel Bayerische Hof dating from 1841, not far from Munich's historic old town, one can find the gastronomic gem of the city: Restaurant Atelier.
Since its opening, Hotel Bayerische Hof has been a much-loved and frequented place for German and international celebrities. For many years the hotel has been owned by the Volkhardt family, who maintain the tradition with great dedication. As soon as you pass the massive, brass-studded revolving doors, you will feel the old-fashioned yet robust and opulent atmosphere that a Grand Hotel like this can exude. It is an establishment that stands and runs like a well-oiled machine and where only the smell of antique wax is missing. The hotel houses the internationally renowned Atelier restaurant, where 38-year-old charismatic executive chef Jan Hartwig has held sway since May 2014.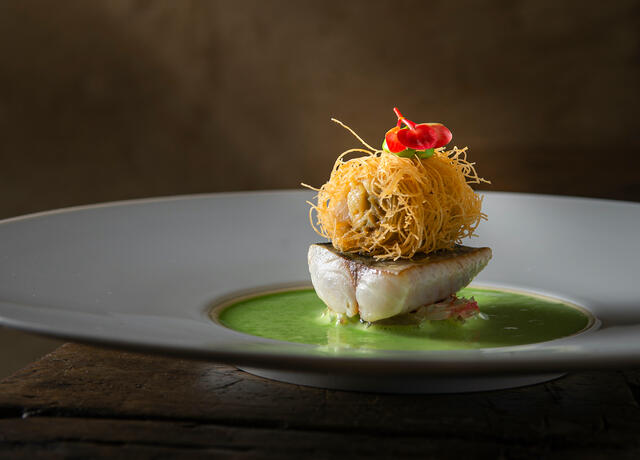 Jan Hartwig
,
Honest, reliable and loved
Jan is down to earth, he is honest, reliable and visibly loved by the people who work with him. With his smiling face and ever cheerful mood, this chef has developed into a worldwide acclaimed chef at a fairly fast pace and through a very interesting course. Jan was born on September 29, 1982, in Helmstedt into a family where food and drink are of paramount importance.
"My father is a chef and he still has his own restaurant. He cooks in a pure and beautiful way. I talk a lot with him about food and somehow we influence each other. So I was home-schooled well. Both parents worked very hard, but they always took the time to cook, eat and get together. We didn't just eat a sandwich from the hand or a fast-food burger. We tried to eat breakfast, lunch and dinner together as much as possible and the times that my father was not there were rare. I don't know any better than having meals whilst sitting around the table as a family and everything revolved around good product qualities and preparing them. My first contact with cooking was at the age of four. Before I noticed it, I was already helping out dad in the kitchen. I learned how to cut vegetables and how to distinguish the different flavours."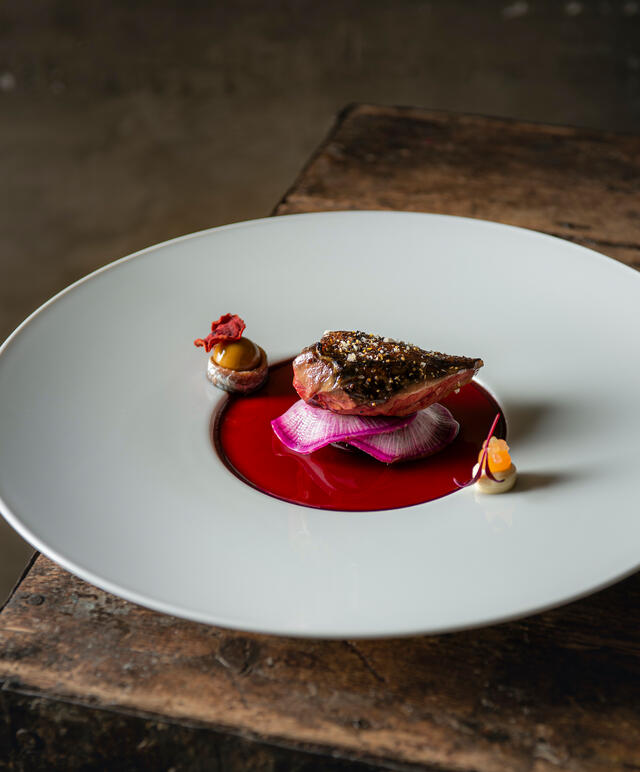 The chef who hates cauliflower
What was your very first homemade dish?
"That was a simple pasta with tomatoes concassés. The tomatoes I had cooked, I put in cold water, skinned, pitted and flavoured with olive oil and herbs. Then I put them in the blender and the result was there. It seems simple, but making a nice and tasty sauce and cooking the pasta until al dente is a real art. What I absolutely don't like is cauliflower. I hate it. I can't do anything with this vegetable. It looks pale, at worst it is mushy and smells awful. I have tried everything, but nothing comes out in terms of taste or layout in order for me to be able to work with it."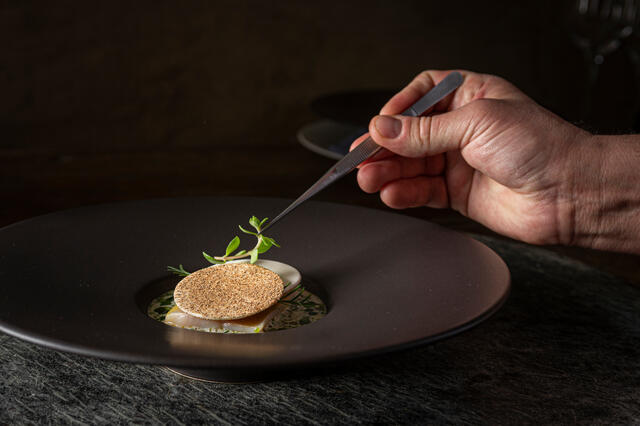 Challenge
Jan completed his first culinary training in Braunschweig, after which he completed several internships with a number of renowned chefs. It is remarkable here that all these internships take place in Germany.
"This was not a conscious choice, but a matter of chance. The chefs I wrote to immediately took me under their wing." Big names like Christian Jürgens in Kastell, Wernberg-Köblitz and Klaus Erfort from GästeHaus Erfort, Saarbrücken are no exception. Between 2007 and 2014, Jan works with his mentor Sven Elverfeld in restaurant Aqua, in the Ritz-Carlton in Wolfsburg.
"I learned something different during all my internships. Taking it step by step and starting at a low level, that's the only way you really learn the trade to the core. You can't get to the top if you don't master the basics of cooking. Unfortunately, I see that many young people miss the basics. Too bad, because often they won't be able to grow to a higher level. Basic skills, passion and dedication, that's what it's all about. My father, and now my team, have certainly contributed to this. Of course, it is sometimes difficult to be a chef and often a challenge. But I try to motivate and encourage everyone to get the most satisfaction out of it." Jan does not radiate allure. For him, it is the confrontation again every day what every person at that level and in any sport does: concentrating and focusing on the set goals.
When asked if he would ever like to be in the kitchen of a fellow chef again, he replied yes. "If the opportunity arises when it is possible and I have the time, then I am certainly open to it. There are plenty of interesting destinations and chefs and if you look around enough, you often discover the best things, especially if you don't expect them. Asia, in particular, attracts me."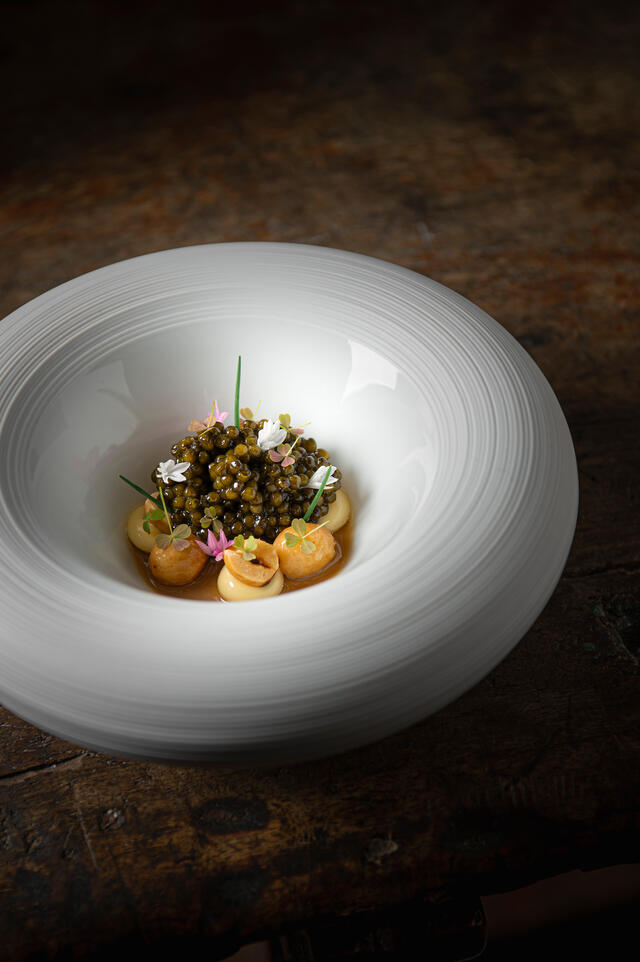 Texture, colour and flavour
However, Jan is not the type of chef who is influenced by contemporary international trends and he does not wonder if his menu is up-to-date enough. He draws inspiration and creativity mainly from the products that are presented per season and from the enthusiasm of the guests.
"People are increasingly interested in the origin of the food they eat. They want to recognize the products and see more pure, authentic dishes with high-quality ingredients on their plates. The back to the roots feeling."
His kitchen is an absolute example of this and fits seamlessly with the desire for authenticity. Jan therefore mainly works with local seasonal products which he converts into pure and beautifully balanced dishes with sometimes unusual combinations. Its precision and technical execution ensure that the dishes are brought to a climax in both taste and layout.
"That's where Koppert Cress comes into play, because their cresses not only add a subtle flavour, they also finish a dish a bit more. One by one they are beautiful small branches, leaves and flowers, each with their unique texture, taste and colour. They subtly influence the dishes. My absolute favourites are the Apple Blossom and the Baby Clover Cress. For the Breton mackerel, fried Gillardeau oyster, pomelo, blood orange and pistachio, I use the Apple Blossom. The subtle foliage gives a fantastic acidity to the dish and the colour contrasts beautifully. I finish my N25 caviar dish with the Baby Clover Cress. This gives more umami to the dish. There is always a finishing touch to my dishes with one of their cresses."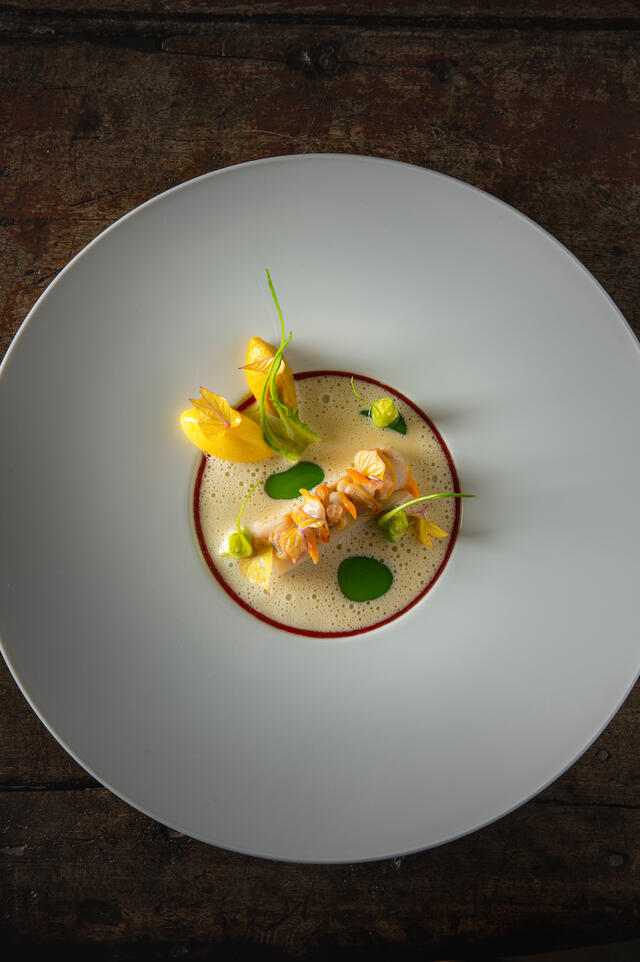 Contactinformation
Restaurant Atelier
Promenadeplatz 2-6 - München
Tel. 0049 /892 120 743
www.bayerischerhof.de
Source: Culinaire Saisonnier 96 - Spring 2020