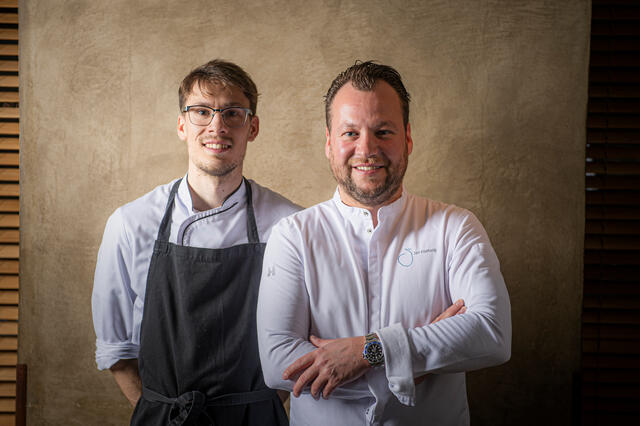 Subtle influence on desserts without domination
,
Pâtisserie & Desserts
Not far from the historic old town of Munich, you will find the beautiful, stately historic hotel "Bayerische Hof" dating from 1841.
Restaurant Atelier
Not far from the historic old town of Munich, you will find the beautiful, stately historic hotel "Bayerische Hof" dating from 1841. The hotel houses the internationally renowned restaurant "Atelier", where 38-year-old and charismatic executive chef Jan Hartwig has held sway since May 2014.
Jan was born on September 29, 1982, in Helmstedt and comes from a family where food and drink are of paramount importance. He is down to earth, honest, reliable and visibly loved by the people who work with him. With his smiling face and ever-cheerful mood, this chef has developed into a globally acclaimed chef at a fairly fast pace and through a very interesting course.
He draws inspiration and creativity mainly from seasonal products and from the enthusiasm and culinary interests of the guests. "My guests want to know more and more about the origin of the ingredients they eat. They want to be able to recognize the products and see more pure, authentic dishes with high-quality ingredients on their plates. The "Back to the roots" feeling."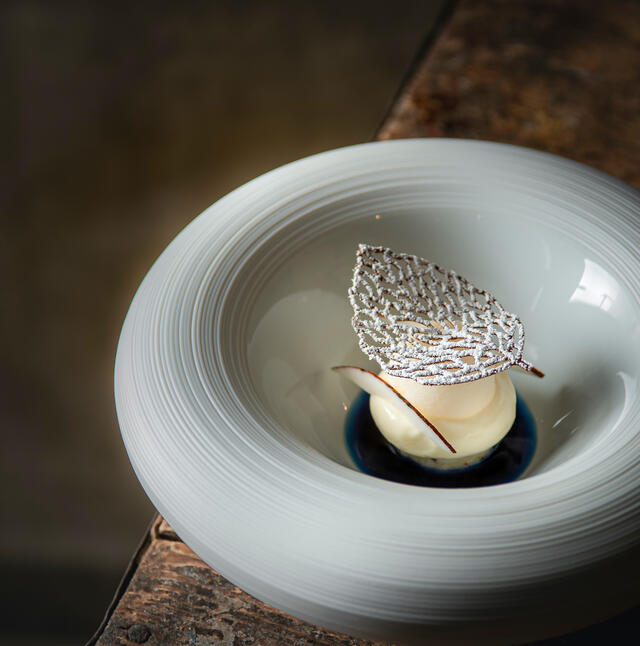 Jan Hartwig
Jan's kitchen is an absolute example of this and fits in seamlessly with this desire for authenticity. His dishes are pure, beautifully balanced and surprising due to sometimes unusual combinations. The precision and technical execution ensure that the dishes are brought to a climax in both taste and layout.
Jan is supported by a team of 10 people who float silently through the kitchen. There is order, structure and discipline. In the back of the kitchen is Thomas Barosch, Jan's young and very talented pastry chef, bent over a dessert that is in the final stages of construction: blueberries, Douglas Fir, Dulcey chocolate & Greek yoghurt. He holds a pair of tweezers in his right hand and places small leaves of Koppert Cress's Citra Leaves on it. He acquired the necessary knowledge from renowned chef Joachim Wissler. Thomas and Jan are an amazing team. "With Thomas, I don't have to use many words to explain about nice taste combinations or presentation when introducing new dishes. It seems as if he can read my mind and in no time he assembles a dessert without much for me to criticize. His gift is being able to visualize a new dish that I have written down in words, which he turns into an appropriate dessert."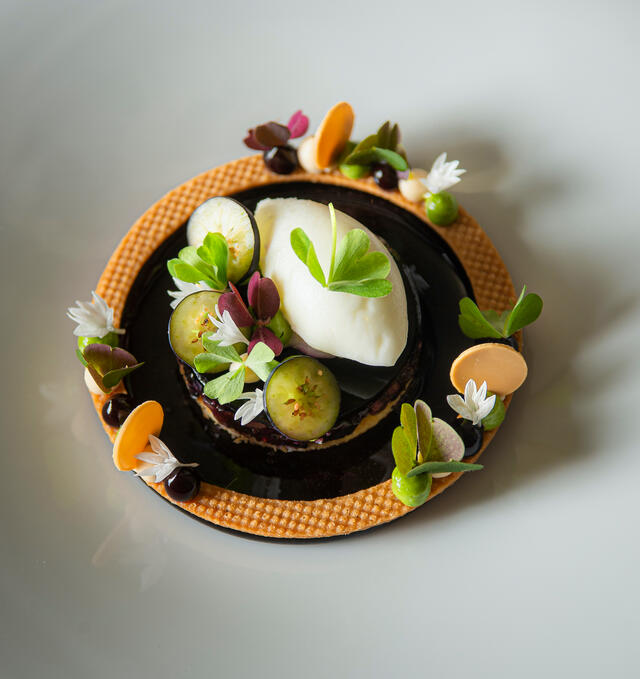 Koppert Cress
This is the most natural thing in the world for Thomas. "I don't know any better than building desserts like that. I can imagine it, including the colours, scents, structures, type of plate and the finishing touch, often working with Koppert Cress cresses. We use them a lot to subtly integrate flavours into our recipes, without being immediately visible, which gives a big flavour boost, but certainly also provides surprise in my desserts. You don't see it, but you do taste it, so it makes you attentive. It is very important that there is a thread running through the entire menu, including the desserts. You build up a certain tension, which you gradually let go through the use of small details. Koppert Cress is certainly part of that because their cresses not only add a subtle flavour but also finish a dish a little bit more. One by one they are beautiful small branches, leaves and flowers, each with their unique texture, taste and colour. They subtly influence my desserts without dominating."
Thomas has talked enough. He puts on his glasses and retreats into his own sweet universe. This time to prepare the typical German "Brezel" dessert. The soft pretzel with caramel chocolate and plum. We are curious!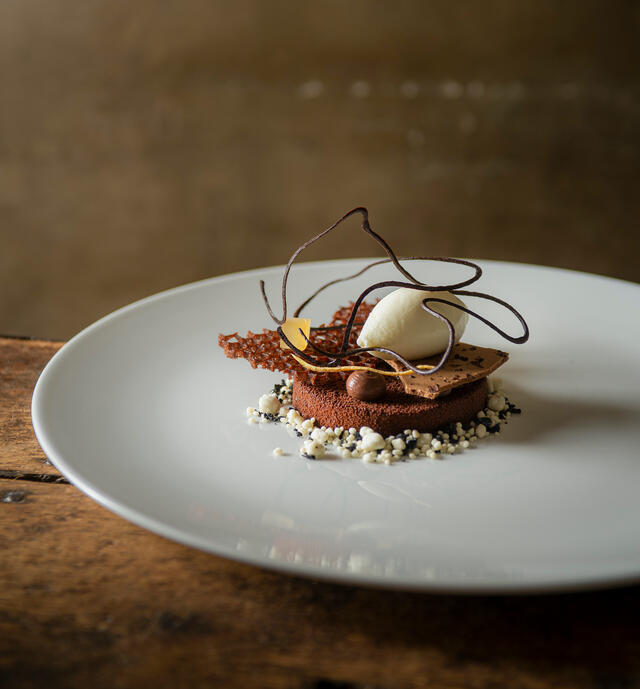 Contact Information
Restaurant Atelier
Promenadeplatz 2-6 - München
Tel. 0049 /892 120 743
www.bayerischerhof.de
Source: Pâtisserie & Desserts 57