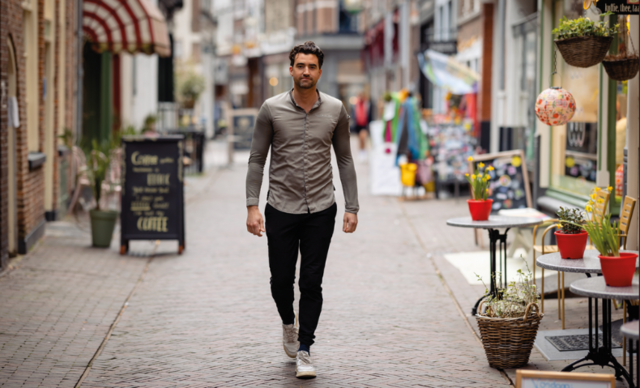 Scandinavia by the Ijssel River
,
Sweet Revenge at The Lemon Tree by Valentijn Bergers
Category: Hospitality & Gastronomy
For years, I traveled to Scandinavian countries for business and was invited to typical Scandinavian lunches. For a long time, I thought the taste palette of the average Nordic person consisted of salty and sour flavors.
Sweet Revenge
So, as the Bocuse D'or competition is held in Scandinavian countries year after year, I suspected that the organizing committee had been bribed with kilograms of skrei and stockfish. The great Paul Bocuse must be turning in his grave. The man who elevated butter-bound sauces to an art form would cringe at the fermented white fish that was frequently offered to me.
Never could I have imagined that my love for Scandinavian cuisine would be ignited in Deventer. A love for a light cuisine. With fermentation, tanginess, and saltiness, but done in the right way and right on Grote Poot Street. The culinary square of the city where, thanks to The Lemon Tree, I now know that I was the laughingstock of my Scandinavian business partners for years. Grown men who gleefully stuffed Surströmming down my throat, only to enjoy world-class gastronomy in the best restaurants around the world in the evening, without me. A dinner at The Lemon Tree always feels like sweet revenge for me. Even though no one in Scandinavia will ever know.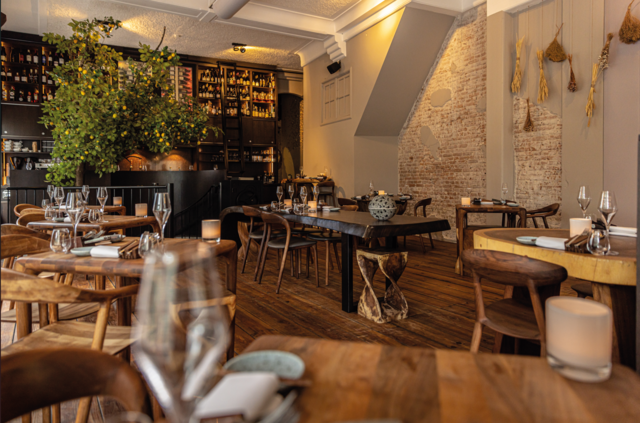 NOMA
Everything at The Lemon Tree breathes Scandinavia. The slender wooden chairs. The handcrafted matte dishes and the fresh lemon tree at the center of the establishment. Owner Valentijn Bergers speaks about it: "At the age of 15, I started as a dishwasher in the hospitality industry. Everywhere I worked during those years, I observed what appealed to me: dishes, ingredients, and also the interior. I carried it with me as if it were a book under my arm, for when I would finally open my own establishment. In Copenhagen, for instance, I sat at a table and immediately thought, that's the one. We are now sitting at a similar table. I encountered that feeling continuously in Scandinavian countries. After a breathtaking tour of NOMA, I was sold. Beautiful natural materials, 'clean,' and top quality. That's what I wanted for my own establishment, The Lemon Tree."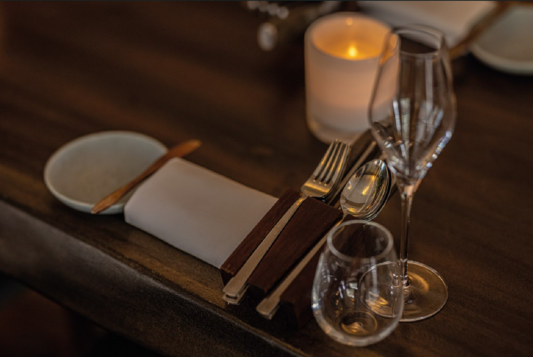 Nature
When you step into The Lemon Tree, you're instantly transported to Denmark. The interior is adorned with lots of wood, greenery, and other natural materials. The appetizers are served on a large tray with moss, as if you're waiting by the dunes in Esbjerg for what's to come. But it doesn't end there. Chef Stan van Lieshout's cooking style is a reflection of what you'd expect in the northern European countries. Nature on the plate. Valentijn says, 'When I was in Waldorf school, I resisted this. At a young age, I wasn't really interested in nature. But you see that as you get older, you come back to it. We humans are simply happiest when our hands are in the soil. It brings peace. We want to radiate that here, and you see it in the dishes. A light cuisine with the freshest ingredients, especially lots of vegetables. And fermentation, pickling, and preserving. I love it, but it's also a fundamental part of every Scandinavian kitchen.''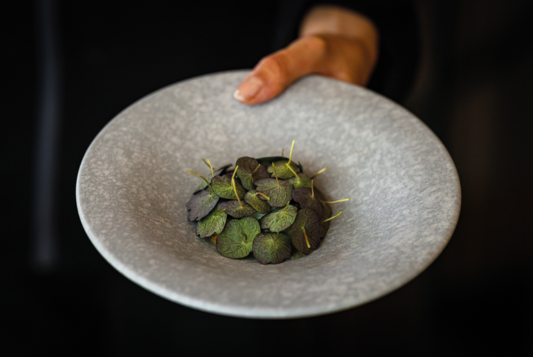 Taste
Dining at The Lemon Tree is an experience. You enter a different world, and each plate is a masterpiece. Yet, the harmony of the dishes takes precedence. 'People who know me are aware that I enjoy creating moments and memories for our guests, but taste comes first. I had to learn that, but with Stan, I found someone who supports me in that. This means that we first construct the palate of a dish and then build on its appearance. Never the other way around. Stan is also the guardian of those flavors. We complement each other perfectly, ensuring a consistently high quality that we both stand behind.'
Today, Valentijn and Stan are once again working with the finest ingredients. The veal and duck come from their trusted supplier, Meatstreet. Especially with the duck, Stan's versatility shines through. Nothing goes to waste. Stomach, liver, leg, and breast – all come into play. Pure craftsmanship.
In a Scandinavian-inspired menu, shellfish and seafood are a must. The monstrously large langoustines from Seafood Go fit the bill perfectly. They come from the right region and need minimal embellishment for a perfect outcome. The belly bacon, artichoke cream, and fermented radishes transport us straight to Copenhagen. For the fourth dish, the chefs drew inspiration from Koppert Cress. A unique vegetarian dish featuring carrot tartare, buttermilk jelly, and ingredients like Moai Caviar, Salty Fingers, and Zorri Cress for that salty Scandinavian touch. Especially the Moai Caviar adds a beautifully salty twist to the dish. Chef Stan used the 'sea grapes' raw. The bubbles burst on the tongue, just like finer caviar. It adds bite and elegance to the dish. What a surprise when the Zorri Cress, which covers the dish and imparts a mildly spicy hint of horseradish, is removed, revealing the Caviar. It's truly dazzling.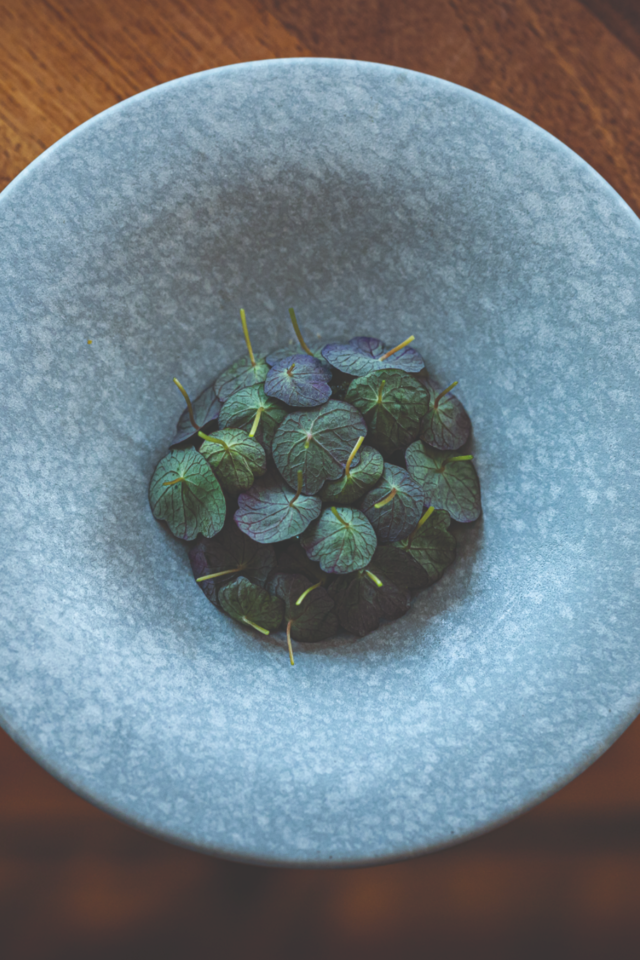 Virus
We already knew that chef Stan gained experience with our good friend Adrian Zarzo in Eindhoven. Not exactly the lightest cuisine, but refined. Did his love for Scandinavian cuisine lead him to The Lemon Tree? Stan laughs and says, 'Not really, but my partner who is from here did. Since I wanted to continue working at a high level, I eventually ended up at The Lemon Tree. Here, Valentijn infected me with the virus. Scandinavian cuisine has grown on me, as it has on the rest of the Netherlands. Fermentation processes from Scandinavia and the resulting products, like kombucha, have become an integral part of Dutch gastronomy. An added benefit is that you can use products longer in the kitchen. There's less waste.'
Presentation
At The Lemon Tree, thankfully, they've bid farewell to the oral presentation at the table. Valentijn explains, 'Yes, we used to do it too. Recounting the entire story from birthplace to slaughterhouse of the ingredients we serve. Perhaps it was uncertainty or the hype that was just there. It happened everywhere. Now, when guests join us at the table, it's about them. Using the best ingredients, often from the region, is also part of that. If more information is requested, the knowledge is there, but nowadays we prefer to listen to our guests rather than the other way around. That also gives us the information and space to elevate the experience for our guests to a higher level. I really enjoy that.'"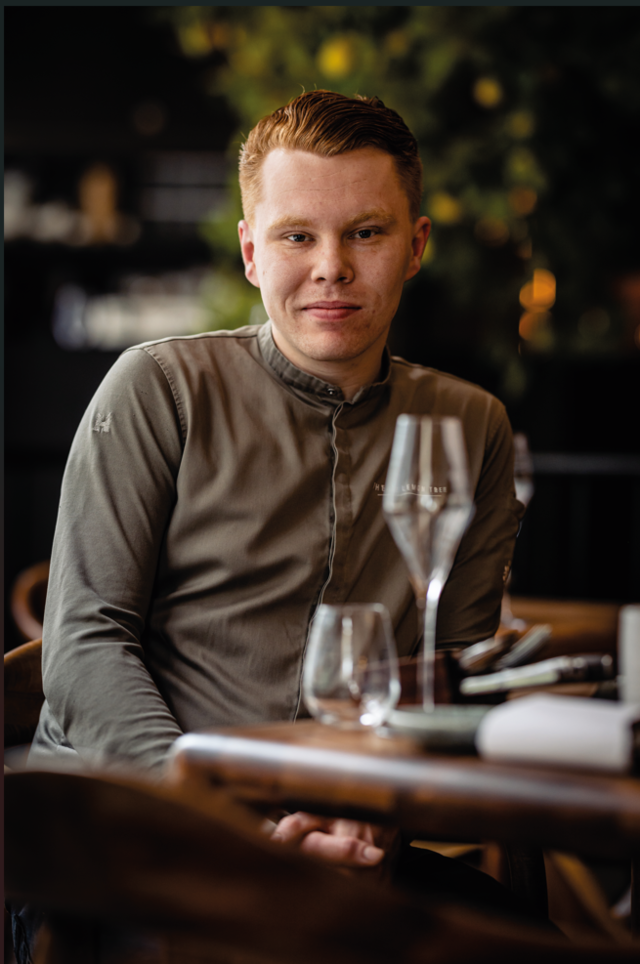 Extra experience
Taking that experience to a higher level. How does that manifest in practice? Valentijn explains, "In top Scandinavian establishments like The Alchemist and Noma, the experience plays a massive role. We won't go as far as they do, but we do play with sound, visual aspects, and sound. 'Nitrogen Stan' often comes to the table, for example, to shatter a frozen flower over a dish. It's visually impressive, but sound also plays a part. It will never take center stage with us, but rather serve as a complement to the overall experience. It's nice that guests can take a story home with them alongside a good dinner. Dining at our chef's table is another beautiful embodiment of that extra experience. The aromas from the kitchen, the sound of clanging pans, it makes it extra special. But then Stan steps in to ensure that the standards remain high."
Madness
Valentijn's boundless imagination and Stan's unwavering commitment to taste have led to clashes at times, Stan says with a grin: "Valentijn could drive me to madness with his ideas at times. I've even said, insincerely, that I wouldn't come back. But we had to get to know each other. Test the boundaries. For a few years now, we just have to look at each other. I know instantly what he's thinking, and he can tell from my reaction how we're going to approach it, leading to the coolest things. This enables us to look up together with our team."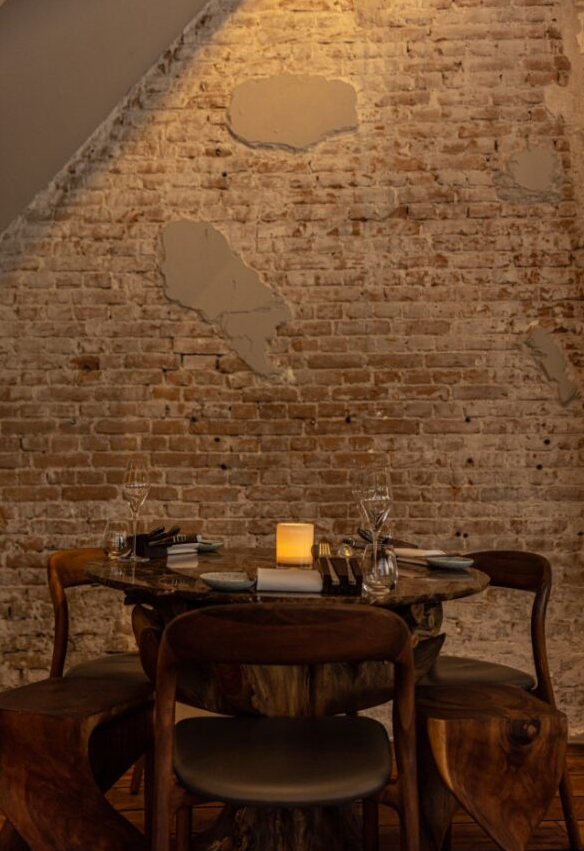 Good old times
If my Scandinavian business partners ever come back for 'good old times,' I'll take them to the FEBO in Amsterdam in the afternoon for a chambered croquette that's been behind the glass for seventeen hours. In the evening, I'll join my Scandinavian-looking wife and dine at The Lemon Tree. Sweet revenge.
Chef: Lars van Galen - 't Lansink
Source: BCBG Magazine Nr. 8
Photography: LVFfood