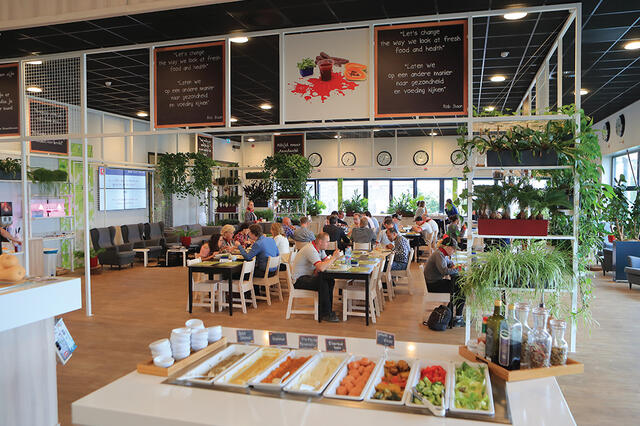 Lunch at Rob & Bob
,
Koppert Cress
Around 300 employees eat in this restaurant every day.
Rob & Bob
Rob & Bob is the Koppert Cress company restaurant. This restaurant is the result of a collaboration between Rob Baan and the caterer Bob Hutten. In this restaurant, employees are served a fresh and healthy lunch every day – no salt or sugar is used when preparing the food. The menu contains considerably less meat and more vegetables than in a normal restaurant. Not only does this have a positive impact on the people who come here to eat, it's also environmentally friendly.
The healthy meals served in the company restaurant are free of charge for employees. However, the company is required to pay tax on these meals. Rob Baan wonders openly why you are permitted to offer your employees free safety shoes, helmets, or sports lessons but not healthy meals. This would mean that you are allowed to protect the exterior of your employees but not their interior (their organs). Rob has entered into discussions with the Dutch Tax and Customs Administration on this matter, but no conclusion has as yet been reached.
CO2 Neutral
In 2017, Rob & Bob was proclaimed for being the first CO2 neutral company restaurant in the Netherlands. The excessive CO2 emissions are compensated by the planting of trees.
We have many different plants on display in the restaurant, as this has a positive effect on people's moods and on air quality.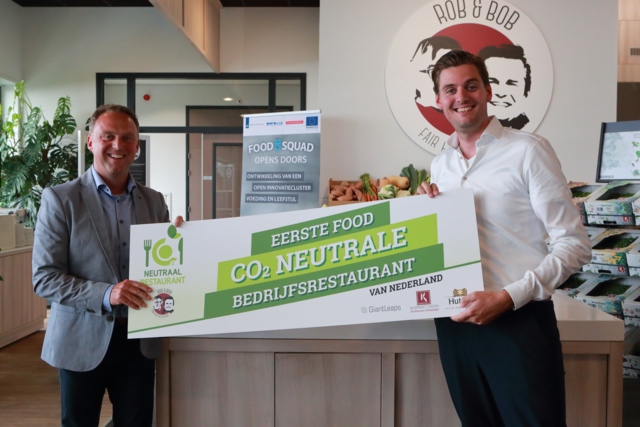 Dutch Cuisine
Koppert Cress is an ambassador for Dutch Cuisine, which promotes Dutch gastronomy and food culture both nationally and internationally among a wide audience. It is a food culture that is globally unique and one that we can be proud of. Always based on the principle of 'less is more,' Dutch Cuisine is about harnessing our creativity, ingenuity, open-mindedness and pragmatism to cook delicious, healthy and sustainable food. These values are the embodiment of Dutch Cuisine.
Dutch Cuisine wants to make it easier and more attractive for people to enjoy sustainable, tasty and healthy food. Why? Because our rich Dutch food culture deserves to be celebrated; because Dutch Cuisine can serve as a connector and accelerate our journey toward more sustainable food consumption; and – last but not least – because it's good for our economy and for the planet.