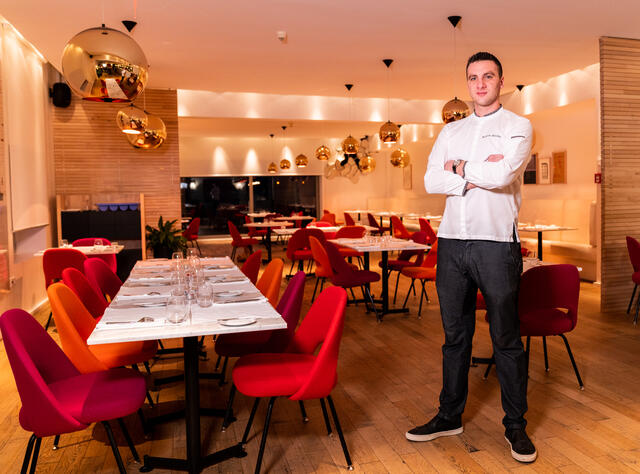 Travel through a tiny country with huge flavours
,
Culinaire Saisonnier
We visited Baptiste Heugens of restaurant Two6Two in Strassen, in the Grand Duchy of Luxembourg.
Baptiste Heugens
This young Belgian with a stubborn opinion did not find the opportunities he was looking for in Belgium and decided to try his luck in the neighboring country. Now, a few years later, he's won his first awards and he has been named the most promising talent in Luxembourg.
The restaurant, tipped by our friend René Mathieu, is a bit hidden in a, when we arrive wet, somewhat inscrutable parking lot, hidden somewhere in the back. We park the car and are curious about what is to come. "You have to go there," said René, "that is really a great talent. We hear his name mentioned more and more here in the Grand Duchy. " It turns out to be a golden tip. When we enter we only see how big the differences are with the impression we got when entering the parking lot. Cheerful colored chairs are interspersed with white sofas and modern artwork on the walls adorn the interior of the restaurant. Lunch is still in progress and we are ordered to wait a while. At the back of the restaurant we see a large window with a view that seems to reach endlessly and we wait for Baptiste. After a few minutes, the chef apologizes. "I apologize, but you have to be patient. Lunch is still in progress and unfortunately I cannot leave my kitchen." Afterwards, the team appears to consist of only four members, of which only three are actually working today. Eventually we get to speak to the outwardly calm young man, luckily he turns out to be a fairly talker.
A true Walloon
Baptiste: "I am a real Walloon, born in Soignies, near Mons. I spent part of my career in Brussels. It was clear from an early age what my career path would look like, because I learned cooking at home from an early age. There were always a lot of people at our house. Friends, family it didn't matter who it was, we were always extensively cooking. I think I was 7 or 8 years old when I helped out in the kitchen at those parties and made the desserts there. What I always liked best was that the food connects people and beautiful conversations start. Once old enough, I decided to take a culinary course and did internships at L'Ecailler du Palais Royal and at Seagrill. My first real job after the school period was back at Seagrill."
Baptiste worked there for almost 3 years and then decided to work for chef Stéphanie Thunus at the Au Gré du Vent restaurant in Soneffe. In the year he worked there, he learned a lot. It was only a small team and he was given the freedom to put together the menu together with the chef. "The freedom I received gave me a lot of confidence in my own ability and so I went through a major development. Then I found the courage to continue my ultimate culinary path in Luxembourg. I have always had the urge to move forward quickly and in Belgium I simply did not get the opportunity to do so. It took me a while to find my way here and worked in restaurants not worth mentioning. After a short while I started here in this restaurant. After 6 months I became sous chef and when the chef decided to leave after a year, I applied for his job."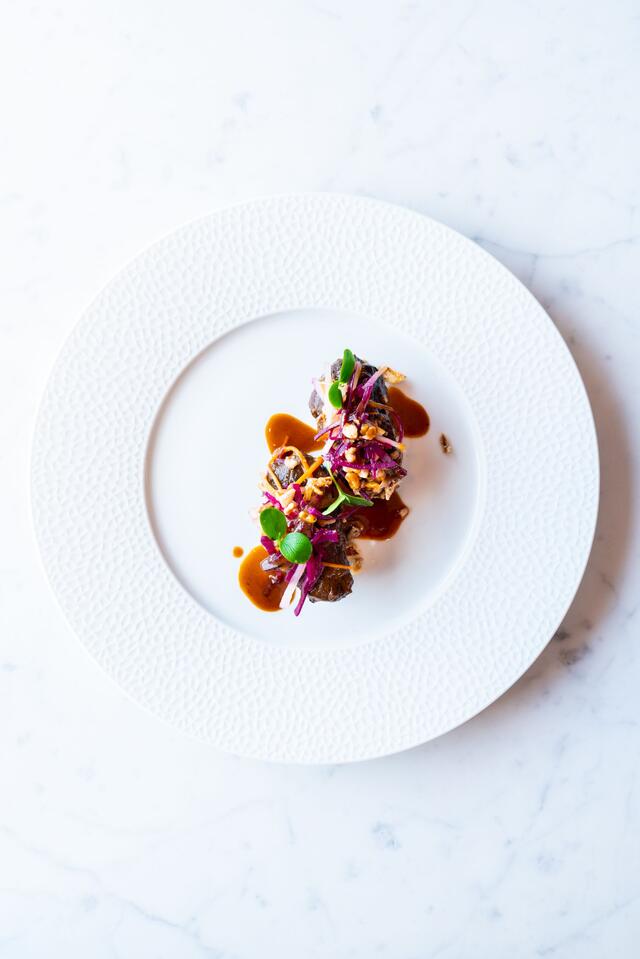 A young man's vision
As a young chef you look out into the world with open eyes, and Baptiste does that too. "I want to make a kitchen that initially focuses on taste. All components in a dish must form a synergy with each other, creating a memory. Two to three flavors per dish must be able to ensure this. The strength of the repetition of those three flavors should not be underestimated. I think it is the power of a chef to make the most sophisticated dish possible with a limited number of ingredients, without undermining the excellent quality of the products. That is balance. Top gastronomy is in small details. Being able to distinguish those details is called tasting. I would like to be in that zone. Originality or creativity is secondary to this. The small nuances, the taste, can therefore be applied very nicely with the Cresses. The dosage and placement of the Cresses are essential in this respect. But who do I tell that to."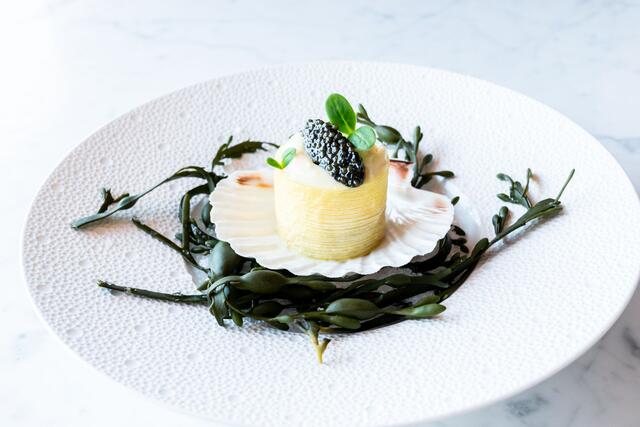 Own culinary signature
As with many young chefs, we also taste thoughtful acidity in Baptiste's dishes. Subtle acids are present in every dish, which causes fraîcheur in the dish. Baptiste: "With the correct dosage, all dishes get a slightly digestible touch. Acidity balances a dish and emphasizes the clear taste signature that I want my guests to try. The light acids with the acidity of the Cresses that I add to my dishes bring togetherness on the plate, the synergy I am looking for. It goes without saying that this also includes dishes that really put your papillae to work in terms of taste profile. Fine tasting does not mean that everything has to be delicate, but there must be excitement for the guest."
Like so many young chefs, Baptiste tries to work with local products, but does not shy away from the international range. "Cooking is constantly evolving. I am not blind to what is happening internationally. It can also inspire or push me in my ambitions. Of course I try to use products from Luxembourg where possible. But if you look at the Cresses alone, it would be a loss for my kitchen if I did not use them in my dishes. Luxembourg is a small but proud country and I want to be able to really represent it where it can. But sometimes, such as the Cresses, there are other beautiful products. You simply cannot ignore that. I just want to be able to use it. You can also find the digestible acidity in my dishes in the Cresses, which makes my kitchen unique to me. It gives me even more possibilities to emphasize my signature. This process, that quest, is a real evolution that goes hand in hand with the development of gastronomy in Luxembourg.
Our gastronomy is still small, but with great potential. If you bring something new with good values, the guest's appreciation will come quickly. I have been using the Cresses from day one and we cannot live without it. Why should we!"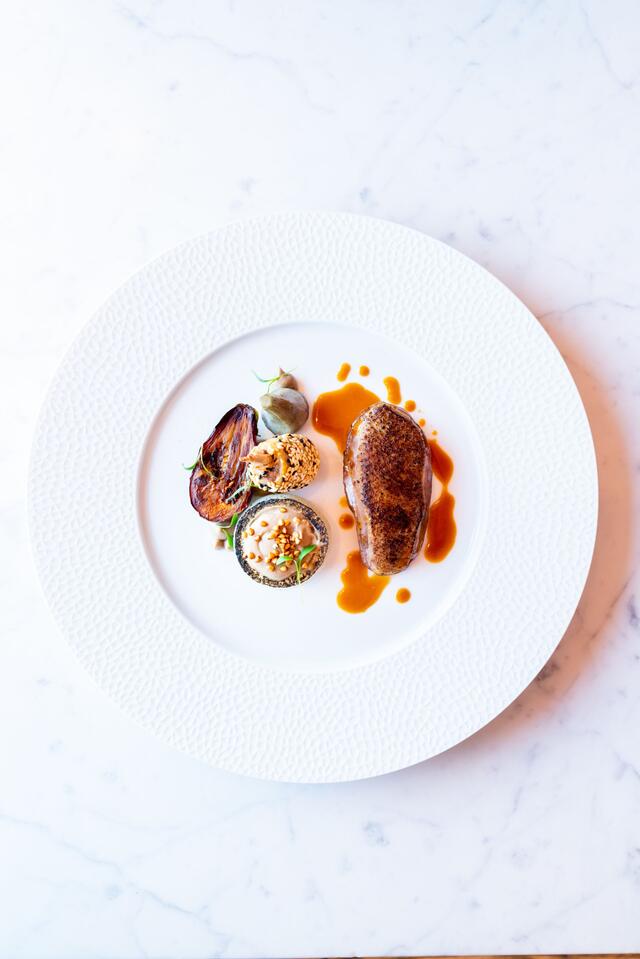 Contact information
Two6two
Route d'Arlon 262, Strassen
Tel. 00352 621 213 208
www.two6two.lu
Source: Culinaire Saisonnier 95 - Winter 2019 (Dutch Edition)