Ingredients
(For 4 portions)
Wreath:
1 punnet Garden Cress
1 punnet Sakura Cress
12 pcs Paztizz Tops
4 pcs Bean Blossoms
90gr dried red lentils
80gr diced shallots
90gr diced parsnip
160gr shredded kale and green cabbage
2 pcs medium garlic clove (chopped)
100gr cooked white kidney beans
200ml red wine
60gr butter
1 piece egg yolk
400gr puff pastry
fine salt and white ground pepper
Red wine and red currant jelly sauce:
150ml red wine
75gr Gorgonzola cheese
1 tsp red currant jelly
Method
Wreath:
Cook the red lentils in boiling water, drain, refresh and leave in a sieve until use. 
Melt the butter in a saucepan and add the diced shallots, the diced parsnip and the chopped garlic. Let cook for 2 minutes and pour the red wine on top. 
Let reduce to almost dry and add the cooked white kidney beans, the kale and green cabbage. Cook for a further 3 minutes, mix in the cooked lentils,8 pieces of Paztizz top, ½ punnet of freshly cut garden cress and sakura cress. 
Season to taste and let cool down. 
Lay the puff and make the Wreath, brush with one egg yolk and bake in an oven at 220C for 20 to 25 minutes. 
Serve with the wine sauce and the remaining of the cresses, Paztizz Tops and the Bean Blossom. 
Red wine and red currant jelly sauce:
Pour the wine into a small saucepan and add the blackcurrant jelly. 
Add the gorgonzola cheese cut into small chunk and bring the liquid to boil. 
Whisk constantly from the start of the cooking process, it will help the cheese and jelly to dissolve into the wine. 
Reduce for one minute and pass the sauce through a fine sieve. 
Reserve until use. 
Recipe: Franck Pontais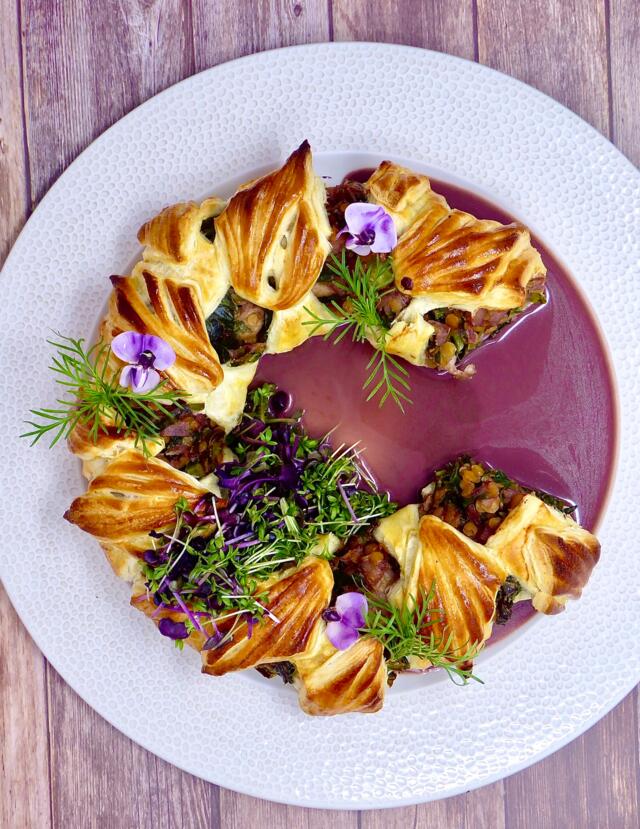 Related recipes
Gastronomical masterpieces
Related products
Say yes to the cress