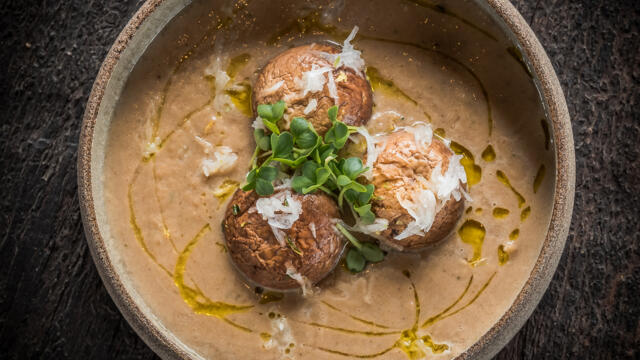 Roasted onion stew with chestnut mushroom, savory and grated rettich
,
Frank Fol – The Vegetables Chef®
Ingredients
(For 4 portions)
6 onions
16 large chestnut mushrooms 2 garlic cloves
2 sprigs of savory
1 bottle of beer Super Kroon, Brewery De Kroon
1 small rettich
Butter - Hollebeekhoeve Arqan argan oil
Black pepper from the mill Coarse sea salt
Daikon Cress
Method
Stew:
Peel the onions and garlic. Chop them together with 4 mushrooms and brown them in some butter. Season with sea salt and black pepper and add some fresh savory.
Then moisten with the beer and some water. Let everything stew under the lid for 10 minutes.
Mix everything into a soup and add the 12 other mushrooms. Then cook under the lid for another 10 minutes.
To finish off:
Place 3 cooked mushrooms on each plate and spoon the thick hot sauce on top.
Now grate some raw rettich over the preparation.
Finish with a few drops of Arqan argan oil and some Daikon Cress.
Recipe: Frank Fol - The Vegetables Chef®
Photo: Wim Demessemaekers, Photographer | @wim_dmskrs
Preparation time: 30 minutes
Techniques: stew, sauce, raw
Plate: Wild Moon wild grey serving bowl
Recommended drink: Super Kroon, Brewery De Kroon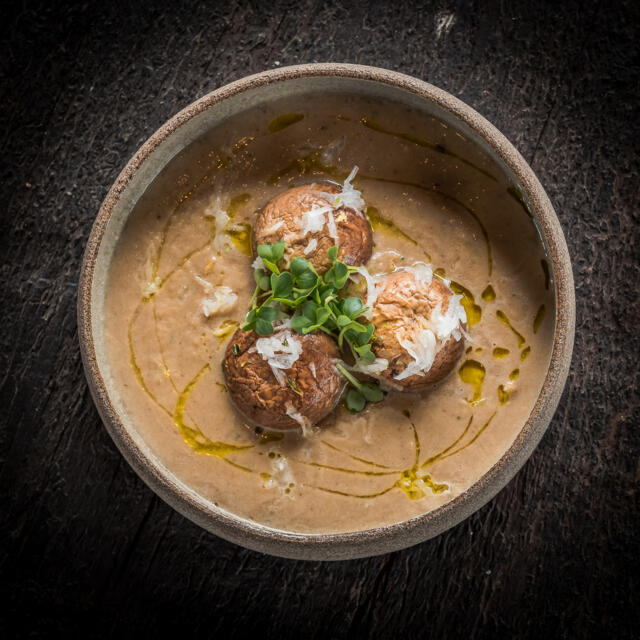 Related recipes
Gastronomical masterpieces
Related products
Say yes to the cress