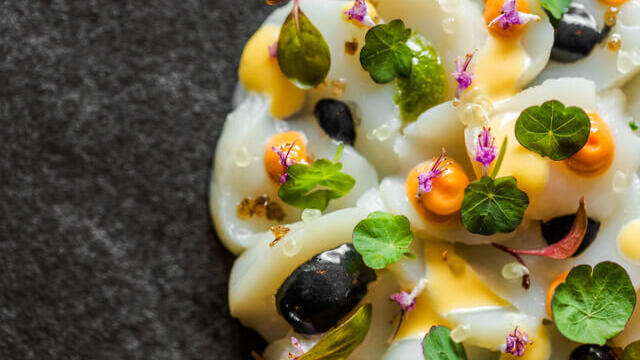 Scallops with elderberry broth, Zalotti blossom, miso mayonnaise, Zorri cress and egg
Ingredients
(For 4 porties)
Scallops:
12 scallops
20g sea salt
20g sugar
5 green pepper seeds (crushed)
Elderberry broth:
50ml lime juice
100ml elderberry syrup
rice vinegar 25ml
1 sprig of Zalotti Blossom
0.02 g xanthan
Miso mayonnaise:
1 egg
1 tbsp light miso paste
100ml oil
15ml rice vinegar
10g Dijon mustard
10g sepia
Salt, pepper to taste
Egg:
3g sea salt
300g egg yolk
Zorri Cress Oil:
100ml grape seed oil
1 bowl of Zorri Cress
To decoration:
Zalotti Blossom
Zorri Cress
Adji Cress
Method
Scallops:
Sprinkle the mussels with a mix of salt, sugar and pepper and leave for 40 minutes.
Then rinse with ice water.
Dry the mussels on kitchen paper, drizzle with a little oil and fry in a hot pan for 30 seconds on each side.
Add a tablespoon of butter and spread the mussels in the butter.
Cut them into thin slices and place on a plate.
Elderberry broth:
Mix all ingredients in the thermomix at full speed for 3 minutes, then aerate the mix.
Egg:
Mix the egg with salt and cook Sous vide at 64°C for 1.5 hours.
Then cool it in ice water for about 15 minutes.
Zorri Cress Oil:
Mix all ingredients together in a blender and filter the oil (you can use a coffee filter).
Recipe: Ernest Jagodziński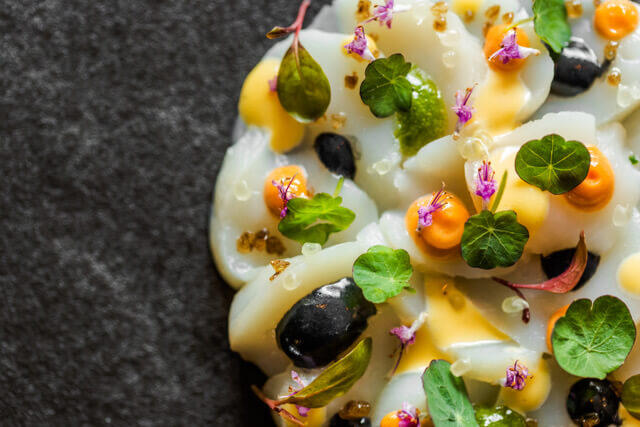 Related recipes
Gastronomical masterpieces
Related products
Say yes to the cress