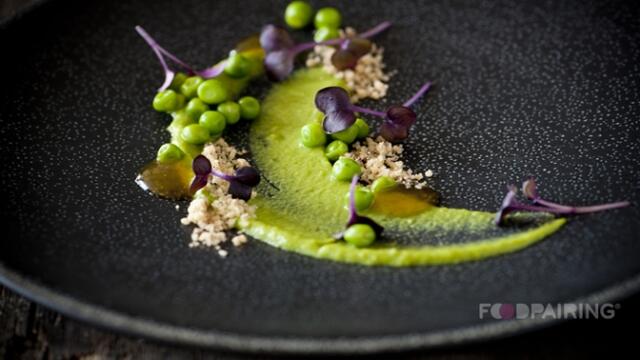 Sakura Cress - apricot - pea - coffee
Ingrediënts
250 g Apricot
185 g White sugar
15 ml Lime juice
2,5 g HM pectin
50 g Water
65 g Wheat flour
35 g Hazelnut, grounded
40 g Butter
15 g Brown sugar
1 g Coffee, freshly ground
200 g Pea, cooked
2 leaf Mint
Sakura Cress®
Method
Halve the apricots and remove the pit.
Mix Apricot, 175 g White sugar, Lime juice, HM pectin, and Water.
Bring to a boil. Allow at least 5' cooking. Mix.
Blend all ingredients except the ground coffee, mint, and pea, until you obtain a crumble structure.
Bake light brown in a preheated oven at 180°C.
Add the ground coffee and let cool.
Mix the peas with mint leaves. If necessary pass through a sieve.
Source: Foodpairing
Related recipes
Gastronomical masterpieces
Related products
Say yes to the cress