Ingredients
(For 4 portions)
8 Aikiba Leaves
2 apricots  
½ papaya   
140g Granny Smith apple puree 
40g apricot puree 
1 Granny Smith apple
lemon juice of ½ lemon
100g double cream
5ml Cointreau 
2 tsp icing sugar
15g crushed meringue     
Method
Cut the apricots into two, remove the stones and sprinkle some icing sugar on the flat sides.
Using a non-stick frying pan, sear the apricot flat side down until the icing sugar has caramelised. Transfer to a baker tray and finish to cook in an oven on 220℃ for 10 to 12 minutes. 
Make 4 strips out of the papaya and steam them for 3 to 4 minutes.
Make some fine julienne out of the Granny Smith apple and squeeze the lemon on top, the juice will stop the apple from turning brown.
Pour the double cream in a bowl with the rest of the icing sugar and the Cointreau, whip until firm and transfer into a piping bag.
Pipe the cream in the cavity of each apricot and arrange the Granny Smith apple julienne on top.
Pour the Granny Smith apple puree on the bottom of the plate, add the papaya, the filled apricot, the crushed meringue and a drizzle of apricot puree.
Finish with Aikiba Leaves and serve.
Recipe: Franck Pontais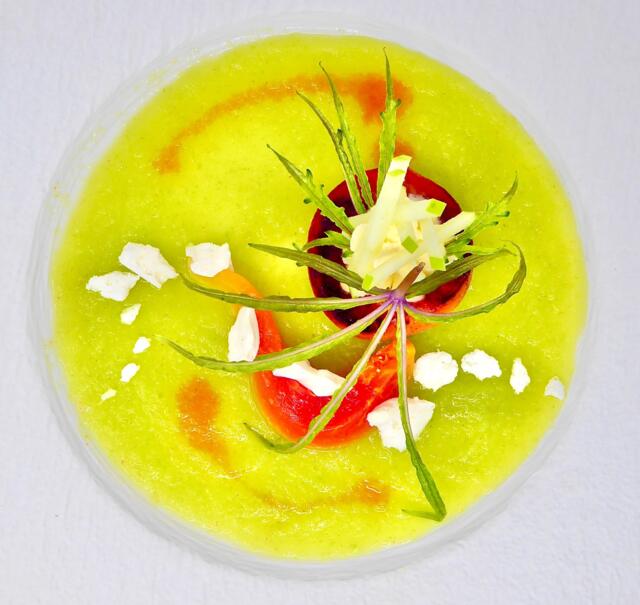 Related recipes
Gastronomical masterpieces
Related products
Say yes to the cress