Ingredients
For 2 entremets - "Essenziale 1000" molds from SILIKOMART
Breton shortbread
55 g egg yolks
120 g caster sugar
135 g butter
3 g fine salt
180 g flour T45
3,5 g baking powder
Almond dacquoise
120 g egg whites
45 g caster sugar
60 g almond powder
60 g icing sugar
22,5 g flout T45
Lychee gel
Lychee puree, no added sugar
200 g Les Vergers Boiron 
Lemon puree, no added sugar
40 g Les Vergers Boiron
80 g water
15 g caster sugar
7 g agar agar
250 g fresh lychee or lychee in syrup
Red prickly pear mousse
Red prickly pear puree, no added sugar
300 g Les Vergers Boiron
60 g Italian meringue
6 g gelatin powder
30 g water
180 g whipping cream 35%
Red prickly pear confit
Red prickly pear puree, no added sugar
350 g Les Vergers Boiron
30 g caster sugar
4 g NH pectin
Elderflower ganache
3 g gelatin powder
18 g water
86 g white chocolate
380 g whipping cream 35%
10 g elderflower syrup
Assembly
Cornabria Blossom
Jasmine Blossom
Method
Breton shortbread
In the mixer bowl, using the paddle, mix together the sugar and butter.
Add the egg yolks.
Sift the flour, salt and baking powder and add to the previous mix.
Cover and refrigerate for at least 30 minutes before rolling out the dough.
Cut out two 16 cm diameter rounds and bake with the rounds in an oven at 175°C until golden, then flatten as soon as you take out the oven.
Set aside for the assembly.
Almond dacquoise
Make a French meringue with the the egg whites and the caster sugar.
Sift the remaining powders and gently fold them into the meringue.
Spread the sponge cake batter in two rounds of 16 cm diameter and bake in an oven at 160°C.
Once cooled, place the sponge cake on the Breton shortbread and freeze in the rounds.
Lychee gel
Drain the lychees and make a brunoise.
Heat the lychee puree with the water and the lemon puree.
Mix the sugar and agar agar together.
Drizzle the powders into the hot liquid and boil for 2 minutes.
Add the lychees in pieces, mix and set aside in the fridge.
Once cooled, blend using a hand blender and pour over the almond Dacquoises in the rounds then freeze.
Red prickly pear mousse
Soak the gelatin powder in the water.
Make an Italian meringue.
Heat up part of the red prickly pear puree and add the soaked gelatin.
Mix until the gelatin has melted.
Add the rest of the red prickly pear puree.
Blend in the Italian meringue and finally the whipped cream.
Set aside for the assembly.
Red prickly pear confit
Mix the dry ingredients together.
Heat the red prickly pear puree.
Pour in the powders and boil for two minutes.
Let cool briefly before pouring over the lychee gels, then freeze.
Keep some of the confit to decorate the entremets.
Elderflower ganache
Soak the gelatin in cold water.
Heat the cream, then add the soaked gelatin.
Pour over the white chocolate, add the elderflower syrup and blend using a hand blender.
Set aside for 24 hours in the fridge for assembly.
Assembly
Pour the mousse in the molds to the halfway point.
Turn out the inserts made of Breton shortbread, dacquoise, gel and confit.
Place the inserts on the mousses and press lightly to smooth the excess mousse.
Freeze.
Once frozen, remove from the mold.
Cream the ganache and pipe the strips onto the entremets.
Smooth out the edges.
Spray the entremets with a slightly pink colored flocking mix.
Pipe some of the confit between the ganache strips.
Add a white chocolate ring and a few Cornabria Blossom and Jasmine Blossom
Recipe: Thibault Marchand 
Source: Les Vergers Boiron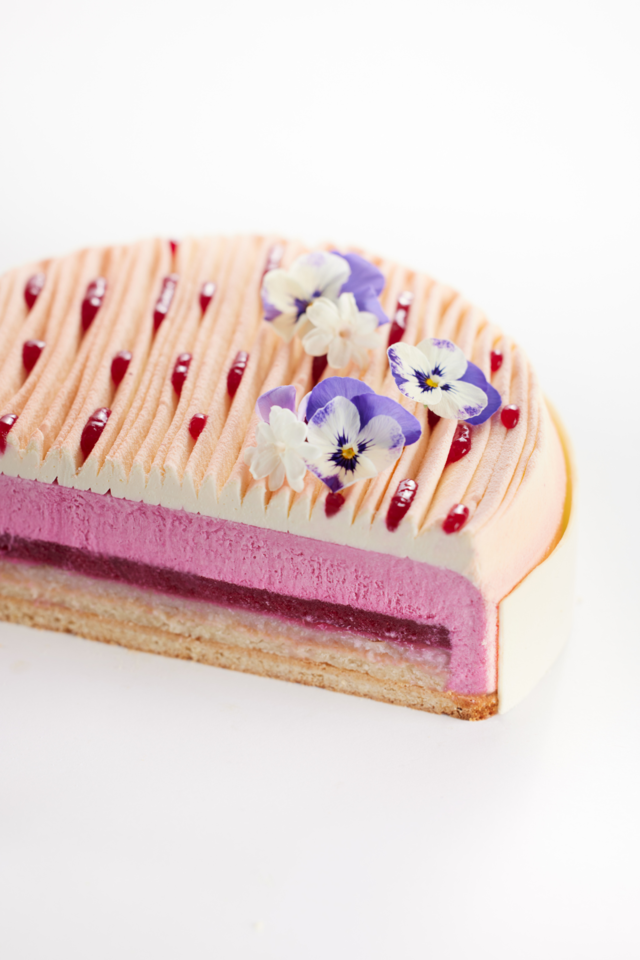 Related recipes
Gastronomical masterpieces
Related products
Say yes to the cress