Ingredients
(For 10 portions)
10 pancakes
2 medium ripe avocados
250g cooked red beans
100ml sour cream
150g mature grated cheese
2 punnets BroccoCress
2 punnets Ghoa Cress
1 medium diced red onion
seasoning
For the pancakes:
50g butter
200g flour
salt
1tbsp baking powder
one egg
250ml milk
Method
Peel and cut the avocados into wedges, and set aside.
Lay the pancakes on foil on the table.
In the middle of each one, equally divide the grated cheese, cooked red beans, BroccoCress, Ghoa Cress, diced red onions and the wedges of avocado.
Mix the sour cream and season well. Add to each pancake.
Wrap the pancakes in order to make a roll.
Cut the rolls into two parts and serve.
For the pancakes:
Melt 50 g of butter.
Place in a mixing bowl 200g of flour, one pinch of salt and 1 full teaspoon of baking powder.
Add one egg, the melted butter and 250 ml of milk to this mix. 
Mix well, leave to rest for one hour. Once rested, make the pancakes.
Recipe: Franck Pontais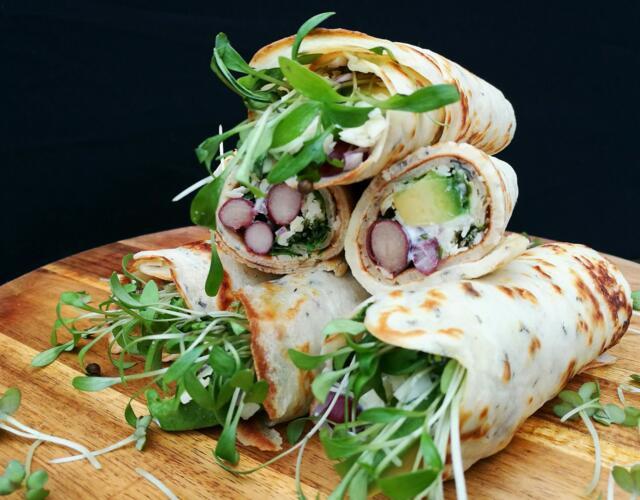 Related recipes
Gastronomical masterpieces
Related products
Say yes to the cress