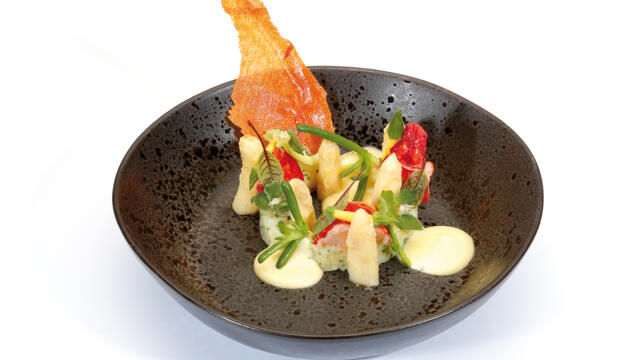 Limburg asparagus with Eastern Scheldt lobster, lemon Hollandaise sauce and Opperdoezer Ronde potato
Ingredients
(For 4 servings) 
Limburg asparagus: 
8 pcs AA Limburg asparagus 
100 g butter 
2 g Maldon salt 
Opperdoezer Round: 
4 pcs equal in weight Opperdoezer Ronde potato
Arbequina olive oil 
Maldon salt 
Forum chardonnay vinegar 
black pepper 
5 g chopped chives 
Eastern Scheldt lobster: 
1 female Eastern Scheldt lobster 
100 g melted butter 
1 sheet of brick pastry 
10 g corn oil 
Lemon Hollandaise Sauce: 
1 pc lemon grated 
50 g castric 
1 whole eggs
2 egg yolks 
200 g clarified butter 
salt
Garnish: 
Salty Fingers 
Vene Cress 
BlinQ Blossom 
Extra needed:
Method
Limburg asparagus:
Peel the asparagus and vacuum with the salt and butter. Steam the asparagus at 95°C, 20 min. Cool the asparagus in ice water. Remove the asparagus from the vacuum bag. Pour the liquid and butter into a saucepan. Cut the asparagus tips from the asparagus into 4 cm pieces. Cut the remaining pieces into small pieces. Store in the saucepan with cooking water and butter.
Opperdoezer Round:
Boil the jacket potato in salted water. Peel the cooked potatoes and cut them into a coarse tartare. Season the tartare with salt, pepper, olive oil, vinegar and chives. Keep the tartare in a saucepan.
Eastern Scheldt lobster:
Cut the head of the lobster in half. Take out the corail. Poach the tail and scissors. Remove the meat from the shell and divide the lobster meat into four equal portions. Store the lobster meat in a saucepan with the melted butter. Mix the corail with the corn oil. Spread the mixture over the sheet of brick pastry with a brush. Bake the brick dough in the oven at 160°C, 12 min. 
Lemon Hollandaise Sauce:
Beat the yolks with the whole egg in a bain-marie lightly together with the castric. Add the clarified butter while stirring. Season with the salt and lemon zest.
Dressing:
Warm up the Opperdoezer Ronde and arrange it in the center of the board. Heat the Limburg asparagus and arrange the large pieces with the point upwards next to the potato tartare. Place the small pieces of asparagus on the potato. Heat the lobster in the butter and dress on the asparagus. Finally, dress the lemon Hollandaise sauce. Garnish with Salty Fingers, Vene Cress, BlinQ Blossom and crispy corail.
Wine suggestion: Cuvee des Amis 2013, Domain Le Coq Frisé
Recipe: Joost Ruiten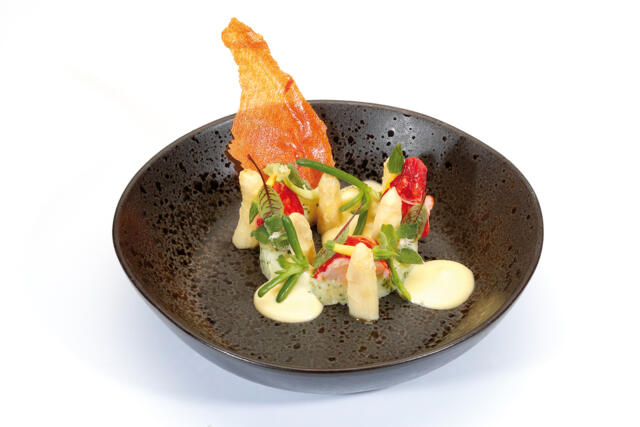 Related recipes
Gastronomical masterpieces
Related products
Say yes to the cress