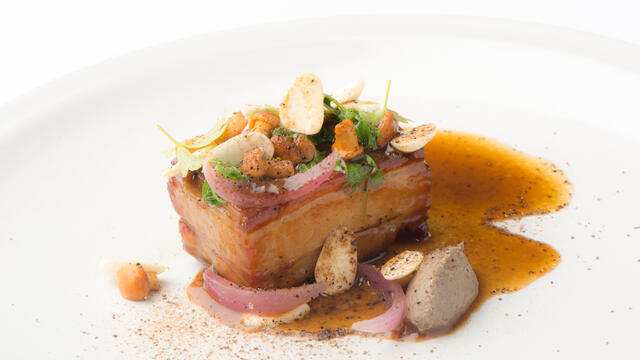 Veal breast, Zorri Cress, girolles, almond, onion
Cyril Molard creates greatness through the combination of ingredients that have been thoughtfully combined in a minimalistic fashion, with craftsmanship as the connecting factor.
Ingredients
4 pieces of 110 g veal breast
1 l veal stock
1 kg of veal trimmings
200 g shallots
fresh almonds
Zorri Cress
little girolles
candied Roscoff onions
grated hazelnuts
For the mushroom puree:
500 g mushrooms (mushrooms, shiitake, girolles)
60 g clarified butter
100 g shallots
40 g death trumpets
350 g of water
10 g of salt
Method
Season the veal breast with salt and pepper and cook overnight in the hold-o-mat at 68°C, under pressure between two baking trays.
Briefly fry the meat on the plancha for a minute. Prepare a classic brown stock. Turn on the veal trimmings, add the shallots and fill with the brown stock.
Allow the mass to reduce to the desired thickness and pass through a sieve. For the puree, put the mushrooms with the shallots in the clarified butter. Add the water and reduce.
Add the death trumpets and cook for 60 minutes. Blend the mixture until smooth and season to taste.
Place the veal breast on the plate with the fried girolles, fresh almonds, candied onions, grated hazelnuts and Zorri Cress. Put a quenelle mushroom puree next to it and spoon the gravy on it.
***
Ma Langue Sourit
1, rue de Remich, Moutfort
T. 00352/263 520 31
www.mls.lu
Recipe: Cyril Molard
Source: Culinaire Saisonnier 82 - Fall 2016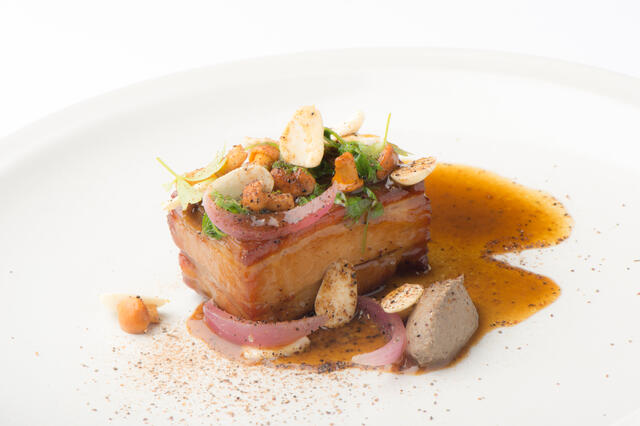 Related recipes
Gastronomical masterpieces
Related products
Say yes to the cress