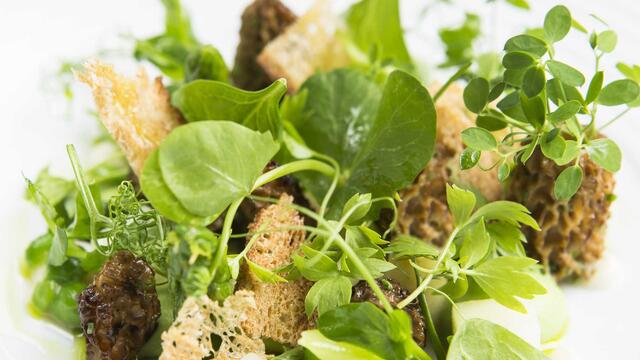 Dried morels, asparagus, pea, parsley
Anton Schmaus aims for a kitchen that respects the countryside and produces simple yet perfectly prepared dishes.
Ingredients
various lettuces
chervil
cauliflower cream
mashed peas
sourdough croûtons
peas
green asparagus blanched
Salad Pea
Persinette® Cress
For the cassoulet:
150 g of soaked dried morels
200 g young spinach leaves
1 shallot
3 cl dry sherry
2 tbsp veal stock
5 cl whipped cream
40 g of butter
For the parsley oil:
5 bowls of Persinette Cress
150 g flat-leaf parsley
3 dl sunflower oil
Method
Blender for the oil all ingredients until smooth, let rest 4 hours and pass through a fine sieve. For the cassoulet, finely chop the shallot and sweat without colouring in 10 grams of butter.
Cut the morels into quarters and add to the shallot. Deglaze with the sherry, reduce to mirror, add the stock and the cream and reduce until creamy.
Season the mixture with salt and pepper, add the spinach and let it melt. Assemble the cassoulet with the remaining butter.
Place the cassoulet at the bottom of the plate and sprinkle with dots of cauliflower cream and pea puree.
Garnish the dish with the other ingredients, season with salt and pepper and drizzle with the parsley oil.
***
Storstad
Watmarkt 5, Regensburg
Tel. 0049 9415 999 30 00
www.storstad.de
Recipe: Anton Schmaus
Source: Culinaire Saisonnier 81 - Summer 2016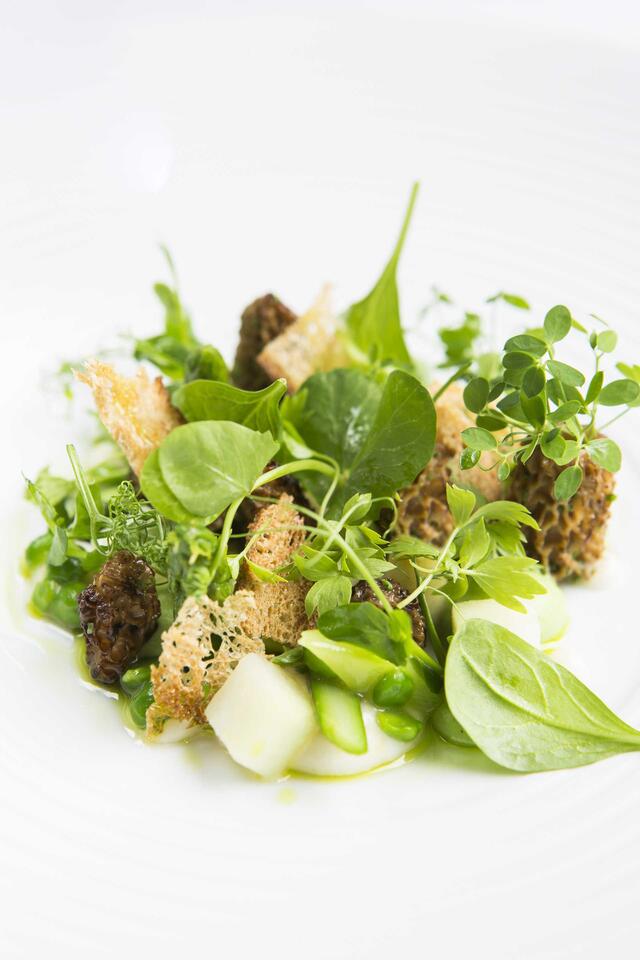 Related recipes
Gastronomical masterpieces
Related products
Say yes to the cress