Ingredients
(For 4 portions)
1 punnet Borage Cress
4 medium pieces of Duck Magret
300ml duck stock
juice from 3 clementines
40gr butter
20gr rapeseed oil
250gr white asparagus
4 tips green asparagus
1 whole clementine
2 pinches fine sea salt
Method
Cook the white and green asparagus in salty boiling water, refresh and keep aside.
Melt the butter with the oil into a non-stick frying pan and sear the duck breast, skin down first. Place the duck in a small roasting tray and finish the cooking process in an oven at 220°C for 8 to 10 minutes, let rest aside once cooked.
Meanwhile, degrease the pan and add the clementine juice and duck stock.
Leave to reduce to a sauce consistency on a high heat.
Cut out some segments out of the whole clementine.
Reheat the asparagus and arrange at the bottom of each plate.
Cut the rested duck magret into slices and place on top of the asparagus.
Serve with the reduced sauce, zest of clementine, green asparagus tip and the freshly cut Borage Cress.
Recipe: Franck Pontais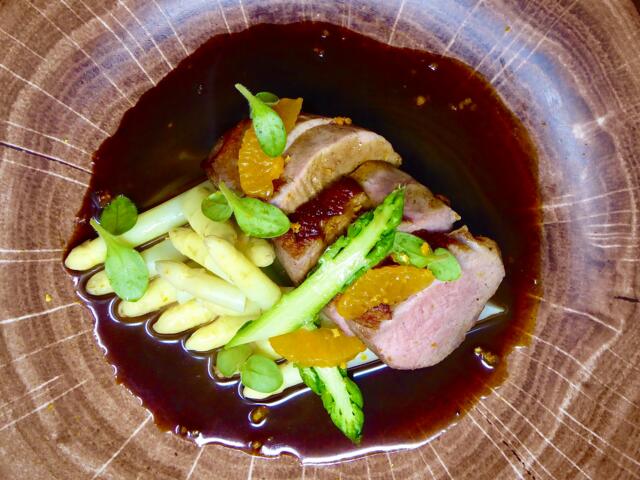 Related recipes
Gastronomical masterpieces
Related products
Say yes to the cress