Ingredients
Coconut lime rice:
75g Arborio risotto rice  
265g Boiron coconut puree 
1/2no. lime zest, peeled  
265g whole milk 
75g whipping cream  
15g caster sugar 
20g lime juice  
25g black rice   
Candied cashews:
30g whole peeled blanched cashews cut into halves length ways
30g egg whites
30 caster sugar
Compressed vanilla cherries:
12no. fresh red cherries
20g caster sugar
1/2no. vanilla pod seeds only
Cherry sorbet:
375g red cherry "griotte' puree
55g caster sugar
½no. vanilla pod, seeds only
½no. lemon juiced
Jasmin foam:
225g whole milk
2.5g Jasmin loose tea, wrapped in a muslin cloth
20g caster sugar
25g whipping cream
35g sos pro espuma cold
Décor:
Jasmine Blossom
chopped candied cashews
candied cashew halves
Method
Coconut lime rice:
Place the coconut puree, milk, cream, into a pan heat lightly, then add the  lime zest pour into a gastro tray mix well.
Add the rice.
Cover with foil and place in the oven at 140°C 5% full fan for approx. 45 minutes or until just cooked.
Remove from the oven add the lime juice and sugar remove the zest then rest covered until cool. 
Then cook the black rice in water for 35 minutes or until tender and refresh immediately. Mix through the coconut rice. 
Candied cashews:
Place egg whites and sugar into a bowl and whisk lightly.
Add the nuts and mix well.
Place on a silpat onto a try and bake at 150°C low fan.
Turn 2-3 times through the process, being careful not to take off the coating once it gets thick and starts to take colour.
Once an even golden brown colour is reached remove and cool.
Break apart as they are cooling so they don't all stick together.
Compressed vanilla cherries:
Mix the sugar and the vanilla together to disperse the seeds through the sugar.
Mix the cherries through.
Place in a vac pack bag and ensure cherries are all flat not on top of each other.
Vac pack until completely tight.
Reserve in the fridge. 
Cherry sorbet:
Mix all the ingredients together, hand blend to combine the vanilla.
Pour into a paco jet, and freeze at -21°C.
Paco jet as required.
Jasmin foam:
Boil the milk, add the tea and infuse for 3 minutes.
Remove the infusion and squeeze lightly.
Add the sugar, with the pro espuma and hand blend until smooth.
Mix in the cream.
Place in a siphon gun add one gas and shake.
Reserve in the fridge.
Recipe: Simon Jenkins
Website: https://www.snjpatisserie.co.uk/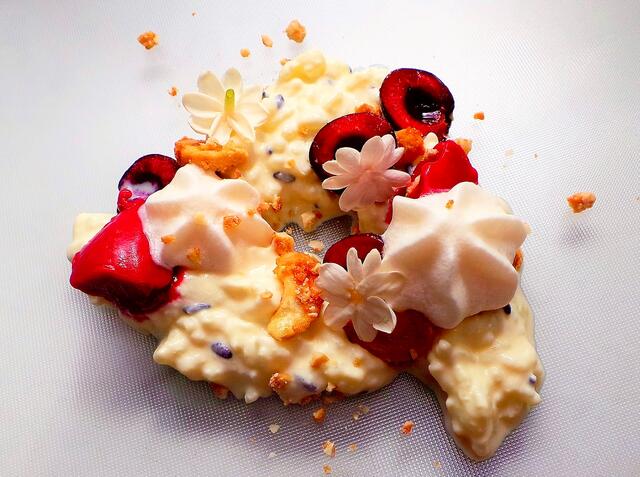 Related recipes
Gastronomical masterpieces
Related products
Say yes to the cress