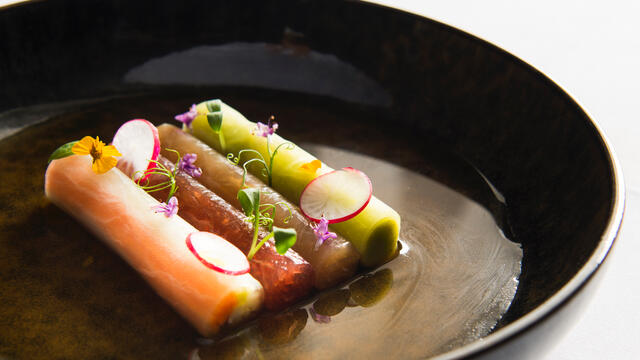 Tuna sashimi, kingfish, pickled vegetables and spicy zucchini cream
Whether it is a classic Badisch farm meal in the stube, the food for half-board guests or the star meal in the Wilder Ritter, André Tienelt's handwriting can be tasted everywhere.
Ingredients
radish slices
Affilla Cress®
Shiso Green
Zallotti Blossom
tuna
kingfish
rice paper
For the squid broth:
500 g chicken wings
500 g squid
100 g of butter
5 cl grape seed oil
1/2 onion
1 carrot
1 skein of celery
3 dl sake
1 clove of garlic
3 l of water
1/2 kombu
bonito flakes
For the pickled vegetables:
300 g of water
150 g of rice vinegar
50 g mirin
15 g of salt
15 g of sugar
1 star anise
2 bay leaves
10 white peppercorns
5 juniper berries
100 g carrot sticks
100 g kohlrabi bars
100 g leek sticks
100 g enoki in sticks
For the spicy zucchini cream:
300 g zucchini
50 g shallot
olive oil
wasabi
salt
4 leaves of gelatin
Method
Finely chop the wings, and briefly coat it in grapeseed oil and butter together with the squid and the finely chopped vegetables, deglaze with the sake and allow to reduce completely.
Then replenish with the water, kombu, algae and bonito flakes, infuse for 2.5 hours, pass through a sieve and cloth and allow to cool.
Cut thin slices of tuna and kingfish, brush lightly with clear soy sauce and roll up into a thin roll. Bring the water for the vegetables to the boil, add vegetables and aromatics and let it steep for 20 minutes.
Pour the hot marinade over the vegetables and allow to cool. Make a thin roll with the vegetables and rice paper.
For the cream, fry the zucchini in olive oil, cook gently, blender very finely, season with salt and wasabi, bind with the gelatin and spray thinly on rice paper.
Place four equally thick rolls on the plate, pour the stock around them and garnish with the radishes and cresses.
***
Hotel Ritter
Tal 1, Durbach An der Badischen Weinstrasse
​T. 0049 781 9323293
www.Ritter-durbach.de
Recipe: André Tienelt
Source: Culinaire Saisonnier 87 - Winter 2017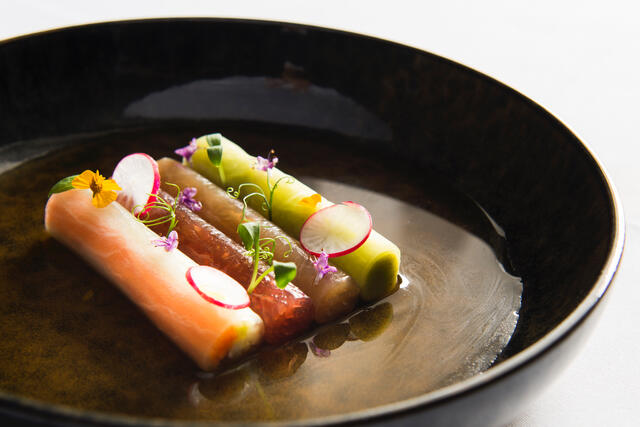 Related recipes
Gastronomical masterpieces
Related products
Say yes to the cress