Ingredients
(For 4 portions)
1 sweet potato
1 onion
1 leek
2 cloves of garlic 2 shallots
400 g peas (may be frozen)
Sea Fennel
2 branches of lemon balm
smoked sea salt - Verstegen
black pepper from the Verstegen mill Some olive oil Iluigi
tablespoon of flour
water
Method
Sweet potato:
Peel the sweet potato, cut into 4 and cook in water with sea salt.
Fried shallot:
Peel the shallots and cut them finely into rings and make sure they are dry by drying them with kitchen paper.
Heat the fryer at 140°C.
Mix some flour into the shallot and fruit until crispy and lightly colored.
Place it on kitchen paper, shake it a little so that most of the fat is absorbed. Sprinkle a small pinch of smoked sea salt over it.
Soup:
Peel the onion and garlic and chop finely. Wash leeks and chop finely.
Stew these in some olive oil.
Moisten with water and season with smoked sea salt and black pepper.
Now add the peas and some finely chopped lemon balm leaves and cook gently for 5 minutes before mixing.
To finish off:
Spoon the soup hot or cold into the bowls, place some pieces of sweet potato and fried shallot over the soup and finish with some sprigs of Sea Fennel.
Recipe: Frank Fol - The Vegetables Chef®
Photo: Wim Demessemaekers, Photographer | @wim_dmskrs
Preparation time: 20 minutes 
Techniques: veggies
Plate: Wild Grey Plate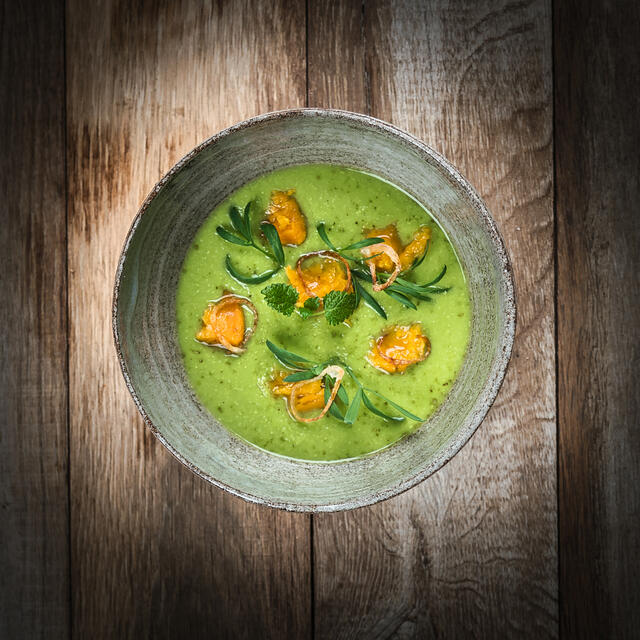 Related recipes
Gastronomical masterpieces
Related products
Say yes to the cress