Ingredients
(2 pavlovas for 4 portions)
Pavlova meringue:
125g egg whites
90g caster sugar
90g icing sugar
Cardamom cream:
225g whole milk
15g Cardamom Leaves ripped
1 vanilla pod, split and deseeded
40g egg yolks
56g caster sugar
10g cornflour
1.5 bronze gelatine leaves
135g unsalted butter, room temp
Compressed apricot with rosemary:
10 fresh ripe, firm apricots
2 large rosemary sprigs, washed, picked and chopped
2 vanilla pods, split and deseeded
35gr caster sugar
Method
Pavlova meringue:
Whisk egg whites and caster sugar to make a firm meringue.
Fold in the icing sugar by hand.
Pipe 2 x 12cm diameter pavlovas on a silpat mat as required. 
Bake at 90℃ for approx. 1.5 hours or until dry.
Remove and cool.
Cardamom cream:
Heat the milk to 80℃, add the leaves and hand blend. 
Infuse the leaves in the milk until cold. 
Add the vanilla seeds and pods, and using the yolks, sugar, and flour make a pastry cream. 
Remove from the heat, add the gelatine then pass through a chinois.
Cool lightly, then blend in the butter. 
Reserve to set in the fridge. 
To use lightly mix and place in a piping bag with a medium nozzle.
Compressed apricot with rosemary:
Cut the apricots into half.
Then cut each half down into 5mm thick segments. 
Place the rosemary, vanilla seeds, and the caster sugar into a bowl. 
Add the apricots and turn gently to coat but do not crush the fruits. 
Gently place flat into a vac pac bag. 
Sous vide completely so no air is present. 
Reserve in the fridge until required. 
Do not keep for more than 2 days.
To build: 
Place the pavlova base onto a plate.
Pipe the cream on randomly in nice sized bulbs. 
Open and drain the apricots, removing the rosemary pieces. 
Place on the cream in a random natural style. 
Finish with small, picked leaves of rosemary if required. 
Dust lightly with caster sugar.
Recipe: Simon Jenkins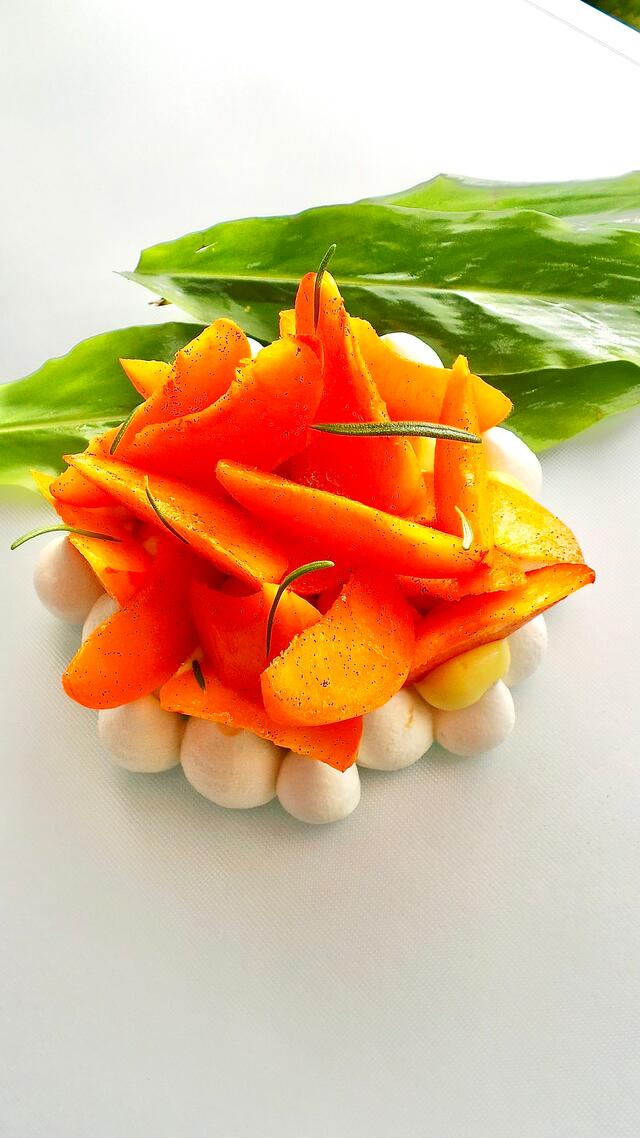 Related recipes
Gastronomical masterpieces
Related products
Say yes to the cress