Ingredients
(For 4 persons)
Dip:
400 g carrots
1 lime
1 tbsp cumin seeds
olive oil
white pepper from the mill and sea salt
piece of red allspice
Method
Dip:
Peel and slice the carrots.
Place in a saucepan and add water until ¾.
Add a piece of lime zest, allspice and cumin seeds. Season with sea salt.
Place the lid on the saucepan.
When the carrots are cooked, remove the zest from the lime and mix them, preferably in a blender, together with some cooking water, olive oil and the juice of the lime to a smooth sauce.
Check the seasoning carefully, but keep in mind that ice plant is slightly salty.
TIP! Ice herb or ice plant is not always available as a seasonal vegetable. Feel free to replace with other vegetables or lettuce. In the photo we used "Syrha Leaves".
Recipe: Frank Fol - The Vegetables Chef®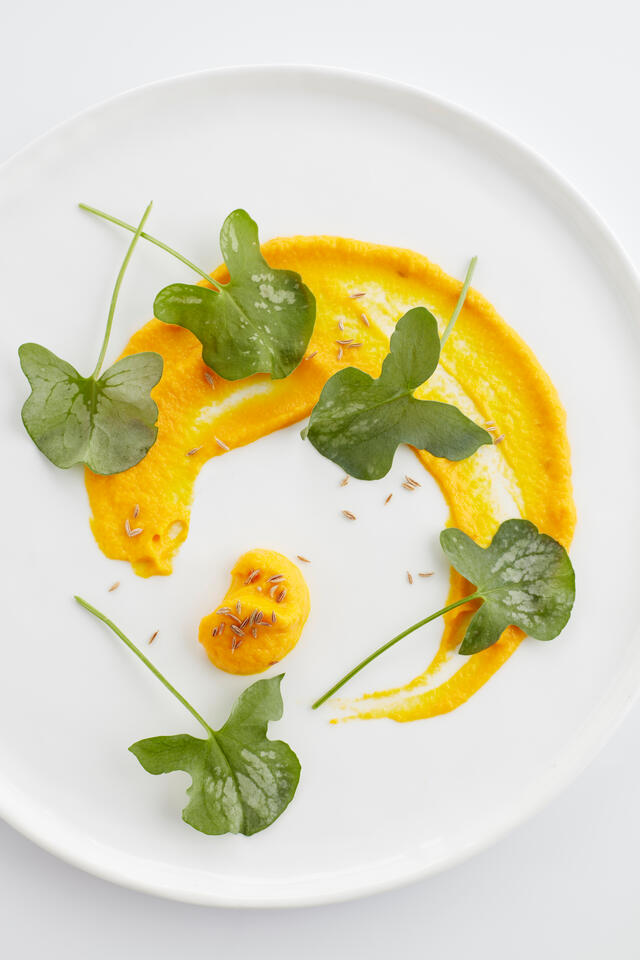 Related recipes
Gastronomical masterpieces
Related products
Say yes to the cress