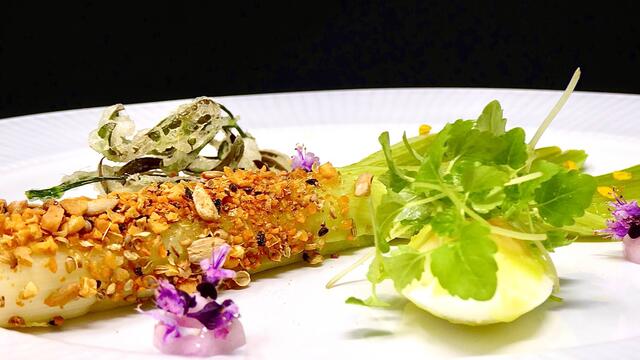 Poached Leek, Dukkah nuts and sea fennel tempura
Ingredients
To make 4 portions
1 punnet Atsina Cress                                         
2 stem Zallotti Blossom                       
40gr Sea Fennel                                     
16 pieces Anis Blossoms                                     
4 each small leeks                                 
1 lit vegetable stock                             
20gr melted unsalted butter                            
1 each boiled soft egg                                         
80gr tempura batter                                            
50gr dukkah roasted nuts                  
8 tsp hazelnut oil                                   
15g Zallotti flavoured vinegar           
1 g ultraWhip                                          
1 pinch salt                                               
1 pinch white ground pepper
Method
Clean, cut to size and cook the leeks in a good vegetable stock.
Cut the egg into 4 quarters , dip the Sea Fennel in the tempura batter and fry at 180°C.
Brush the white part of the leek with the melted butter and roll into the roasted Dukkah nuts.
Using the ultrawhip, whip together in a bowl the Zallotti flavoured vinegar, 4 tsp of hazelnut oil and the seasoning.
Dress the plate with the Zallotti foam, leeks, egg, sea fennel tempura, the freshly cut Atsina Cress, 4 anis blossom per plate and a drizzle of hazelnut oil.
Recipe: Franck Pontais
Related recipes
Gastronomical masterpieces
Related products
Say yes to the cress