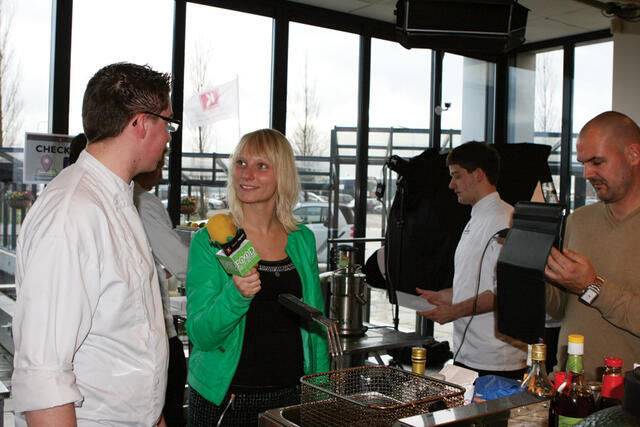 Gastronomixs sets World Record during 6thTweetJam event
On December 3, Koppert Cress and Gastronomixs jointly organized the sixth edition of the Tweetjam.
On December 3, Koppert Cress and Gastronomixs jointly organized the sixth edition of the Tweetjam. During this cooking session, with main topic 'Spitskool' (Oxheart Cabbage), a new world record was set: 103 different preparations of Oxheart Cabbage. "A very special day", according to both organizers. It is remarkable to see so many chefs working together in good synergy, sharing inspiration and knowledge, stimulating each other to reach beautiful results. The TweetJam and record attempt are a perfect platform to do so." 
Upon arrival, the 65 chefs were separated into a morning and afternoon team. One group to start with the record attempt, the other to begin with the TweetJam. With the record attempt the chefs prepared over 100, previously selected basic preparations with the typical Dutch Oxheart Cabbage.

For the record all were prepared on the spot and registered by two professional culinairy photographers. The record attempt was an initiative to prove that it is possible, also with ordinairy ingredients, to cook in a distinguishing manner and that sharing knowledge stimulates synergy. At the end in four sessions the chefs set the world record with 103 different preparations.
During the TweetJam the chefs were occupied jamming and tweeting (#tweetjam6), and the strong interaction with the sponsors resulted in remarkable creations. All jam actions were registered by Food Reporter in a live online broadcast.

The online audience was treated with interesting interviews with the chefs and sponsors of the event. TweetJam is a new way of interactive communication with an interested audience. This Koppert Cress initiative is supported by a selection of prestigious suppliers to the gastronomy.With the use of social media such as Twitter, Facebook and modern technologies as live streaming (live video over internet) it is possible to capture the younger generation of gastronomic professionals and start a dynamic dialogue. All results of this TweetJam can be found on the Koppert Cress website and social media channels.

In the Cressperience-Atrium the participating teams had access to oxheart cabbage and special vegetables from Rungis, cress from Koppert Cress, mushrooms from Westland Mushrooms, cooking islands and steamers from Héman and Rational, Livar Pork, special herbs from Cuimed, Japanese top products from Yama, bread from DesemEnzo, Green Eggs from Kookvuur, venison from Qurious and nitrogen from IceWizard. A suitable addition were the chefs apparel and embroidery from Raspberry Craft, the sharp knives from Koksmesexpert and the delicious coffee from Single Estate.
Additional information is available on our special TweetJam page: http://www.tweetjam.nu

Michiel van der Spek
Gerelateerde nieuwsberichten
Ook interessant