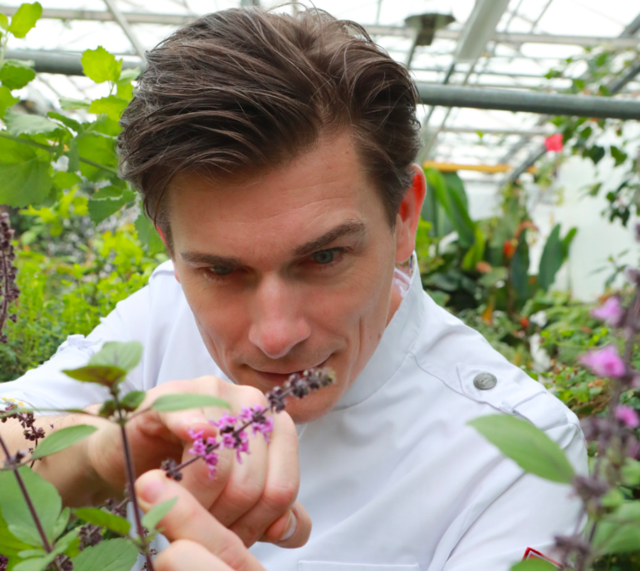 Using all senses
Pastry is the perfection of sweet temptation that cannot be surpassed in grace and delight. Marcel Thiele's own teacher always said that the perfect pastry creation could be compared to an angel wing.
Cooking with emotions
Pastry is the perfection of sweet temptation that cannot be surpassed in grace and delight. Marcel Thiele's own teacher always said that the perfect pastry creation could be compared to an angel wing and is the real soul of the kitchen. The fact that even his teacher did not trust himself much in the culinary art of the sweet kitchen only spurred him on.​
Marcel Thiele, recognized master chef, pastry chef and Spicehunter®, works for Koppert Cress B.V. as a top gastronome, expert on international stages and opens new horizons in the progressive development of culinary art. Whether during training sessions, on stages or during a social gathering with fellow friends, he knows how to captivate his audience with experiences from his travels through more than 82 countries and is able to combine things in inspirational simplicity. Meanwhile, he is the culinary patron of the Maldives and the Russian state catering. "There is a certain diet change going on: on the one hand you don't want a vegan kitchen in the sweet kitchen, on the other hand you need to be able to answer frequently asked questions such as 'Should I cook without eggs, milk, cream, etc.?' ... no , certainly not! Yet it is important to look for alternatives without the adaptations becoming too complicated."
When Marcel thinks about developing a vegan dessert, he is not looking for industrial, chemical solutions or other strange substitutes. He is more likely to make his mise en place without using egg, milk and cream, while thinking about how to create a "dream dessert". To the question "How do you experience the development of a dessert?" he replies with a laugh "With every creation I develop, I imagine that I am enchanting the love of my life with it. It's always best to cook with emotions! I want to serve every dish I make to my daughter, my beloved wife or my sick grandmother, and get an overwhelming smile in return, that's my motivation!"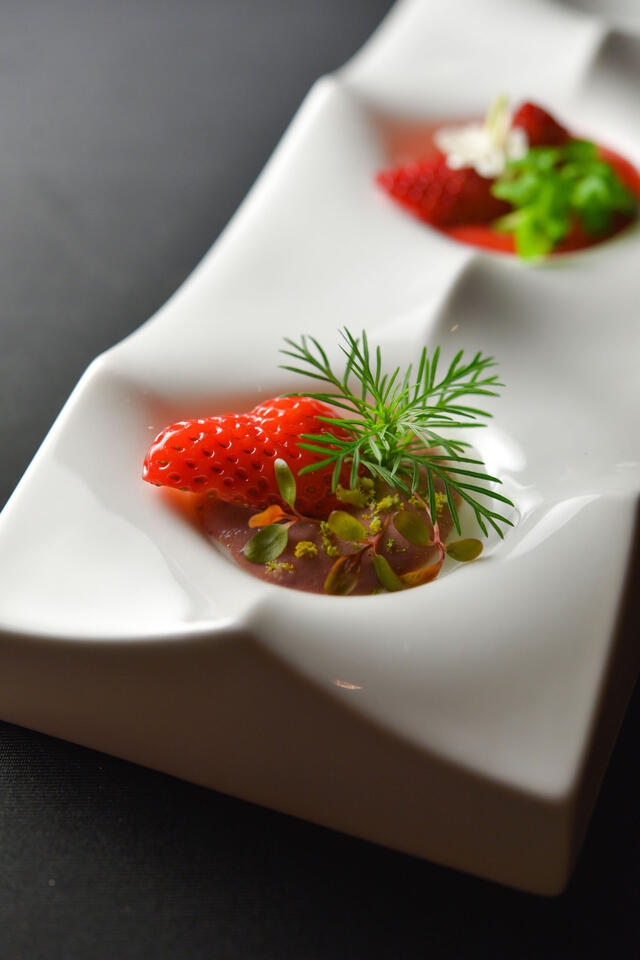 Pure storytelling
Not every confectioner is prepared to reduce the use of sugar and to experiment with the possibilities and properties of plants, instead of with fondant, glucose or various E-substances.
Marcel emphasizes that, after the 500th anniversary of the discovery of America, the acquired product knowledge, such as strawberries, chocolate, vanilla, corn and so many others, must open our eyes. The use of these classics should be considered. "A classic Sundae, with some contemporary adaptation, should not be forgotten." The pastry chef has an enormous influence on the further development of the sweet kitchen. "When a banana is not heated up with a banana split, I become internally rebellious. A banana develops its full aroma after just 5 minutes in an oven at 200°C, the skin turns black and the flesh takes on a caramel touch that stimulates the taste buds. Add non-dairy ice cream and some mango foam to this. The recipe and presentation will be pure storytelling".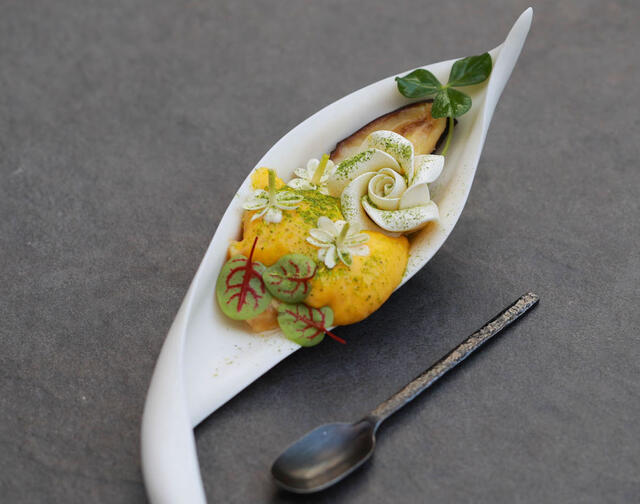 Complexity and power of plants
The idea arose during numerous company tours of Koppert Cress's head office in Monster, located between Rotterdam and The Hague. Every week an average of 450 top chefs from all over the world visited Koppert Cress, the "edible jungle", the very special experience kitchen or Cressperience as it is called. Hundreds of pastry chefs were amazed when a green cardamom leaf (Cardamom Leaves), slightly warmed in water, separated a red color from the green one, inducing an almondwood-cinnamon-blossom flavor contrasted with ginseng-mint. 30 Sechuan Buttons, the edible flowers, gives a pastry chef more than 1,000 dessert ingredients. 1000 small meringue pearls based on Sechuan Button sugar are used as individual components in a dessert. They taste like meringue and contain Spilanthol which opens on the tongue and gives a tingling sensation.
One of his "secret weapons"? "Knowledge of the complexity and strength of the plants is a priority. Only then will a pastry chef shred jasmine blossoms (Jasmine Blossom) and mix it with almond dust, baobab powder or icing sugar to make a delicious Mangari Brownie, "says Marcel Thiele.
Source: Patisserie & Desserts 61