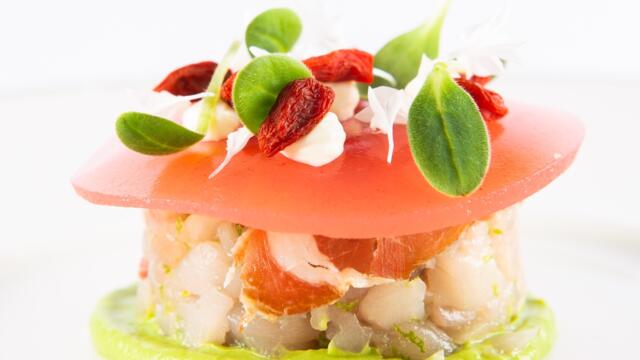 Mackerel tartare
Source: Culinaire Saisonnier
Mackerel tartare, pata negra, avocado cream, sourdough crisp, watermelon, cream cheese and goji berries.
Ingredients
50 g dried goji berries
4 thin slices of pata negra
white cornflowers
Borage Cress
For the mackerel tartare:
3 pcs mackerel 350-450 g each
1 lime
pepper
salt
For the avocado cream:
2 avocados
1 dl yogurt
1 lemon
pepper
salt
For the sourdough crispy:
thin slices of sourdough crispy
sunflower oil
pepper
salt
For the watermelon jelly:
300 g of watermelon
2 g of gelatin
2 g agar
For the cream cheese cream:
100 g cream cheese
water
pepper
salt
Method
Fillet the mackerels, remove the skin and cut into small cubes. Season with salt, pepper and the zest of the lime. Parry the avocados and blend smoothly with the remaining ingredients. Cut the slices of bread round, brush with the oil and season to taste. Bake between two mats for 8-9 minutes in the oven at 170°C. Centrifuge the watermelon and reserve 250 g of juice. Bring this to the boil for 1 minute with the agar and add the soaked gelatin. Season to taste, spread thinly on a tray and allow to cool. Cut out the size of the tartare. Dilute the cream cheese with a little bit of water and season to taste. Fill in a pastry bag. Pipe a dot of avocado cream on a plate and arrange the tartare on top. Put a slices of pata negra on the tartare and then the crispy. Place the jelly on top and garnish with the berries, herbs and flowers.
Source: Culinaire Saisonnier
Photographer: Dirk Kerstens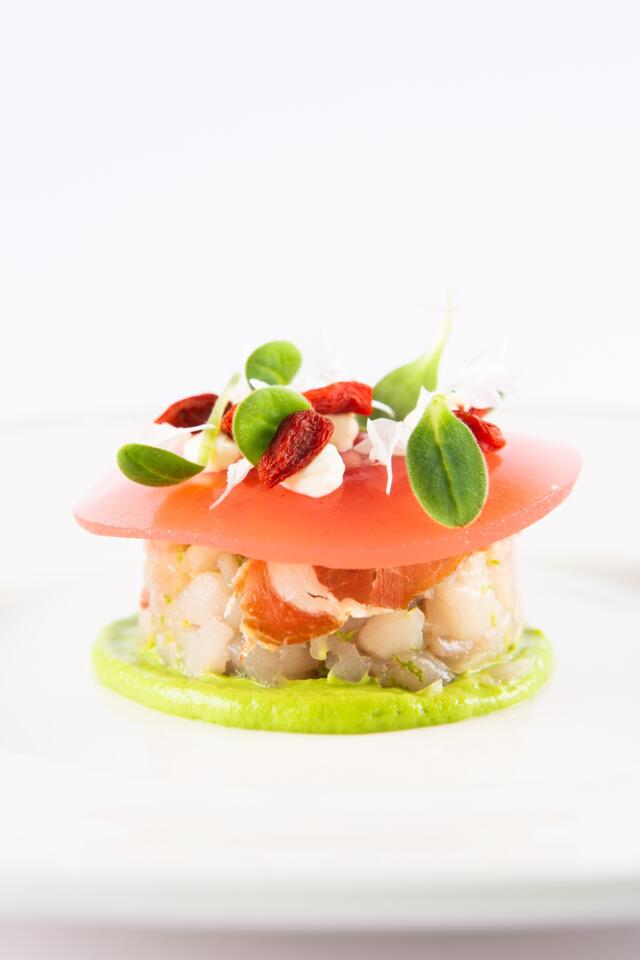 Related recipes
Gastronomical masterpieces
Related products
Say yes to the cress