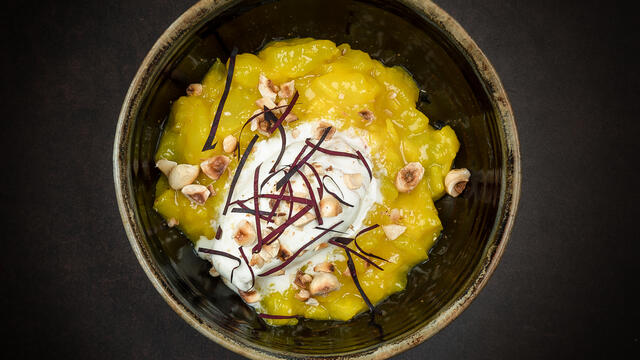 Pear compote with ginger and turmeric, nicciola olive ice cream, roasted hazelnut and Yka Leaves
Ingredients
(For 4 portions)
4 ripe pears
piece of fresh ginger
tumeric powder - Verstegen
roasted hazelnuts
Iluigi olive oil
Iluigi nocciola ice cream
Yka Leaves - Koppert Cress
Method
Compote:
Peel a 4 cm piece of ginger and grate or chop finely. Peel and core pears.
Cut into pieces and simmer gently with the ginger, teaspoon of turmeric powder and a dash of olive oil and cook under the lid.
Then let it cool down in the refrigerator.
To finish off:
Spoon some compote into each bowl.
Spoon a scoop of the Iluigi nocciola ice cream on top and finish with roasted and broken hazelnuts, a few drops of olive oil and some finely chopped yka leaves.
Recipe: Frank Fol - The Vegetables Chef®
Photo: Wim Demessemaekers, Photographer | @wim_dmskrs
Preparation time: 30 minutes 
Techniques: veggies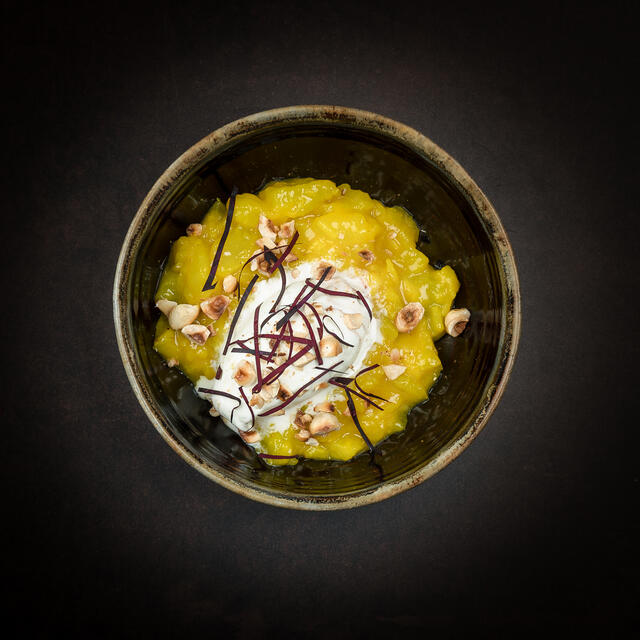 Related recipes
Gastronomical masterpieces
Related products
Say yes to the cress