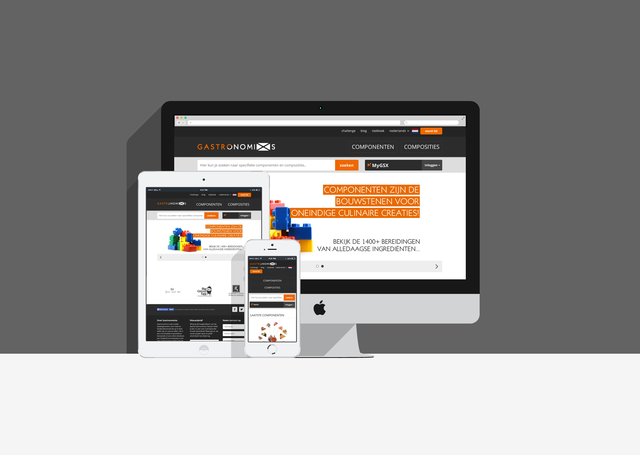 Successful Dutch culinary platform goes international!
Every generation of chefs has its own standard reference works.
Every generation of chefs has its own standard reference works. Escoffier's Le Guide culinaire, the Larousse Gastronomique and the books by Le Cordon Bleu, for example, have served as a reference guide to millions of chefs worldwide. At a given point, Jeroen van Oijen and Inge Meijs started wondering if the material available today was still suitable for the current and future generations of chefs. The answer, clearly, was 'no'. Almost two and a half years ago, they launched Gastronomixs.com in the Netherlands. From that moment on, this culinary platform has evolved into the most frequently used source of inspiration for over 6,500 professional and aspiring (Dutch) chefs. The founders are confident that it is time for the next step: Gastronomixs should become available internationally!
'Gastronomixs.com is the first digital standard reference work for professional chefs, worldwide!'
BUILDING BLOCKS FOR CHEFS
The biggest difference between Gastronomixs and all other sources of culinary information available today is that Gastronomixs offers its expertise in the form of building blocks. Rather than offering recipes for specific dishes, Gastronomixs offers sub-recipes (components) that chefs can endlessly embroider on to create dishes (compositions) of their own. This stimulates creativity to the maximum and also allows chefs to adapt dishes, or create entirely new ones, that are uniquely suited to their own style and type of guest. The website is very user-friendly and organised in such a way that it is easily accessible. Gastronomixs starts with a single ingredient and immediately links this to a variety of different dishes and preparation methods. These components, as they are called here, have been prepared and tested multiple times by a team of professional chefs.
'As opposed to most recipe websites, all of the content on Gastronomixs has been prepared and tested by professionals.'
GASTRONOMIXS TO BE LAUNCHED WORLDWIDE
The international website will be launched on Monday 15 September 2014 in Zwolle (The Netherlands) during Chefs(R)Evolution, a gastronomic event presented by three-star Michelin-rated restaurant De Librije and the team of the German culinary magazine Port Culinaire. As from that day, Gastronomixs.com will also be available in English. The platform's design will be fully updated and enhanced with a number of new functionalities. One of these is MyGSX, which will enable users to fuse components into compositions within their own domains. Through these functionalities, Gastronomixs will simplify and accelerate the creative culinary process for chefs all over the world!
More info? www.gastronomixs.com
Gerelateerde nieuwsberichten
Ook interessant