Ingredients
Miso cream:
3 egg yolks
150g clarified butter
50g miso paste (misopeter)
40g poultry stock
salt
Leek:
Egg yolk cream:
100g egg yolk
5g salt
Cayenne pepper
15g lemon
100g poultry stock
Method
Red mullet:
Fillet the red mullet of the highest quality (Brittany) and remove the bones.
Miso cream:
Beat the egg yolks, miso paste and poultry stock and salt to 82°C. Gradually add the clarified butter and make a kind of hollandaise with just a little more stand.
Leek:
Carefully cut the leek diagonally and blanch in salted water.
Rinse in ice water, pat dry and set aside.
Egg yolk cream:
Mix all ingredients except the poultry stock and vacuum seal.
Steam the bag at 69°C and then mix it with the poultry stock to a smooth cream.
Complete:
Season the red mullet, put it on a grid and pour 250°C hot fat over it until the flakes are golden yellow.
Then finish cooking for 2 minutes at 180°C.
Drizzle the leek with a little olive oil and keep it warm, then fill with the egg yolk cream and arrange in a star shape on the plate and decorate with the Sechuan Cress and Kyona Mustard Cress.
Place the miso cream in the middle and the cooked red mullet in the middle.
Recipe: Andre Wolff - Rungis Express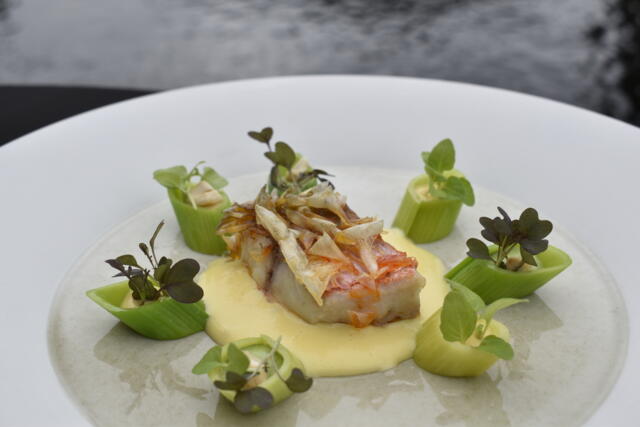 Related recipes
Gastronomical masterpieces
Related products
Say yes to the cress