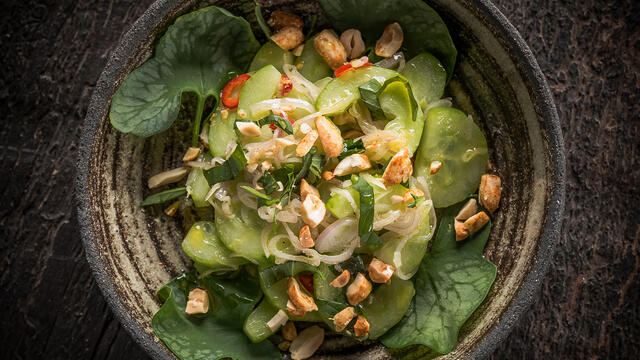 Cucumber salad with Thai basil, shallot, lime, red allspice, roasted peanuts and Syrha Leaves
,
Frank Fol – The Vegetables Chef®
Ingredients
(For 4 portions)
1 cucumber 
1 red allspice 
2 shallots 
1 lime 
2 sprigs of Thai basil 
40 gr roasted peanuts 
1 tray of Syrha Leaves
Olive oil El Flamenco 
Coarse sea salt 
Method
Cucumber: 
Peel the cucumber 
Cut it lengthwise and scoop out the seeds with a spoon. 
Keep and mix the seeds with some lime juice and olive oil to make a sauce. Season with some sea salt. 
Cut the cucumber into halfmoon shape of about half a cm thick. 
Finely chop a piece of red allspice without the very spicy seeds. 
Stew the cucumber with the allspice very briefly with some olive oil and sea salt. Let it cool down. 
Finely chop a few leaves of Thai basil and mix with the cucumber salad together with the sauce. 
Prepare garnishes: 
Finely chop shallot and season with some sea salt. Marinate a little. 
Coarsely chop the roasted peanuts. 
Finish: 
Place the Syrha Leaves in each bowl around. 
Divide the cucumber salad. 
Finish with the garnishes: shallot and peanut 
Drizzle some more olive oil over it. 
Recipe: Frank Fol - The Vegetables Chef®
Photo: Wim Demessemaekers, Photographer | @wim_dmskrs
Preparation time: 15 minutes 
Techniques: stewing, raw, roasting, marinating 
Plate: Wild Moon small ceramic bowl 
Recommended drink: Beer Job, Brewery De Kroon – Belgium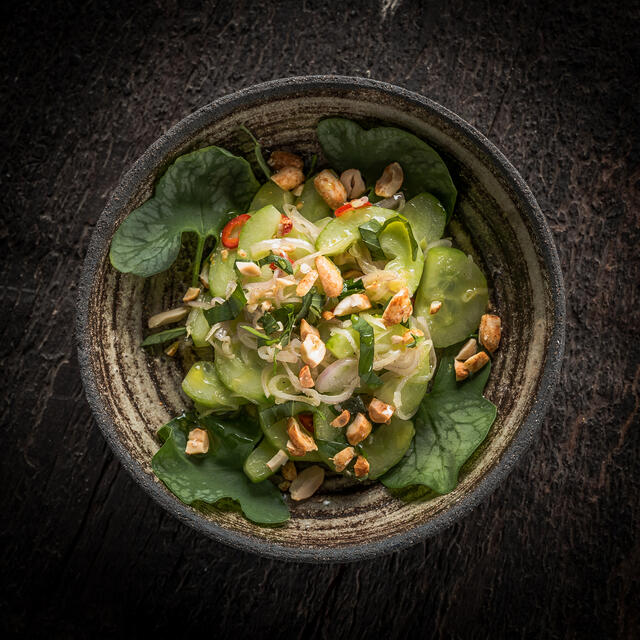 Related recipes
Gastronomical masterpieces
Related products
Say yes to the cress