Ingrediënten
Voor 4 porties
8 Shiso Leaves Green
1 bakje Tahoon Cress
12 Moai Caviar
1 eetlepel gedroogde Tahoon Cress
20 spruitjes
1l groentebouillon
4 middelgrote wortelen
4 stuks pastinaak
4 snufjes witte sesamzaadjes
2 eetlepels sake (koken)
2 eetlepels vloeibare honing
4 eetlepels mirin
4 eetlepels sojasaus
12 stuks lange bamboestokken
1 Japanse tafelgrill
Method
Soak the long bamboo skewers in clear water.
Peel and cut the carrots, peel the parsnip and trim the Brussel sprouts.
Blanch the vegetables on a strong vegetable stock, drain and place them in a bowl.
Whisk together the cooking sake, liquid honey, mirin and soya sauce to make the Yakitori sauce.
Pour the sauce over the vegetables, fold gently and make the skewers using the bamboo sticks.
Grill each skewers on a hot Japanese grill, season with the dry Tahoon Cress and place on the plate with the shiso green leaves and Moia Caviar.
Sprinkle the sesame seeds and add the freshly cut Tahoon Cress.
Serve.
Recipe: Franck Pontais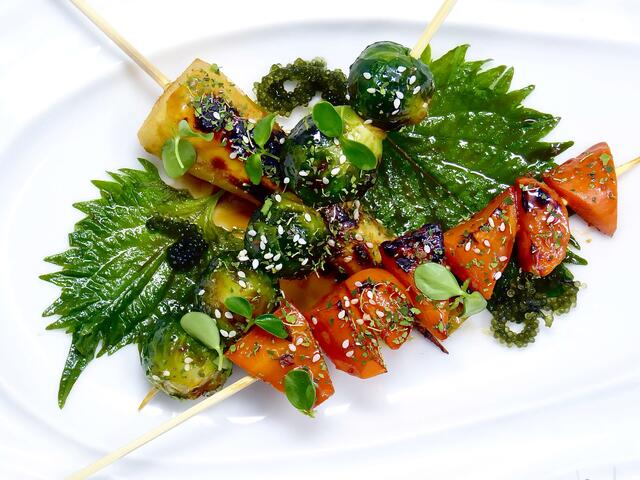 Related recipes
Gastronomical masterpieces
Related products
Say yes to the cress