Ingredients
(For 6 to 8 portions)
½ punnet Syrha Leaves
850gr fresh apricots
250gr puff pastry
40gr unsalted butter
100gr caster sugar
100ml water
Method
Cut the butter into small piece and keep aside. 
Cut all the apricot in half (remove the stones).
Lay the puff pastry in a circle, same size as the cake dish. 
Pour the sugar and the water in a thick saucepan and make a caramel. 
Once the caramel becomes dark golden, add all the butter at once and wisk to incorporate nicely. 
Pour the caramel straight away in a cake dish, making sure that the bottom is well covered. 
Arrange the apricot in the dish, starting by the side and finishing in the middle. 
Cover with the puff pastry and cook in a hot oven at 180°C for 25 to 35 minutes. 
Once cooked, remove from the oven, and press slightly with another dish. 
Turn the tart upside down making sure to collect and reserve the caramel. 
Serve with the caramel and a few Syrha Leaves. 
The combination is very good and surprising as the sharpness of the leaves cut through the sweetness of the apricot. 
Recipe: Franck Pontais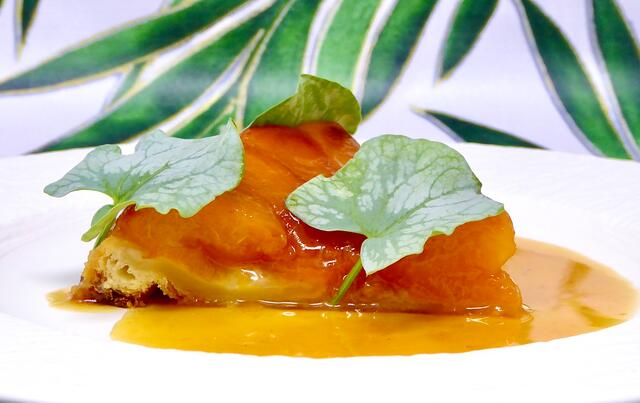 Related recipes
Gastronomical masterpieces
Related products
Say yes to the cress